Home
HAKIJA'S TROOPS, ZULFO'S TROOPS, NASER'S TROOPS
Were units under Naser Oric's command "teams for the salvation of the people" or military formations?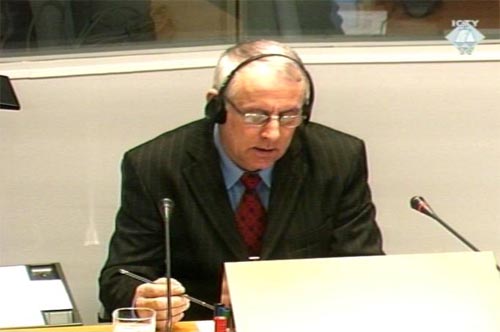 Becir Bogilovic, witness in the Oric trial
The establishment of the police and military forces in Srebrenica began in Bajramovici, on 20 May 1992, testified Becir Bogilovic at the trial of Naser Oric. Bogilovic attended that meeting and received the task to establish a police station in Srebrenica. He said that Oric was on that occasion appointed the commander of the Srebrenica Territorial Defense staff.
Ten days later, at a meeting of local representatives in the village of Stupine, Hajrudin Avdic was appointed the president of the Srebrenica municipality. At the same time, he was the president of the War Presidency. This in effect established the civilian government in Srebrenica, Bogilovic said. At that meeting, he was appointed the Srebrenica chief of police.
Although in his examination-in-chief he testified about the establishment of the military and civilian authorities in Srebrenica, in his cross-examination by the defense Bogilovic denied that this had been a formal establishment of a military chain of command in Srebrenica. The residents of the villages whose representatives attended those meetings "elected their unit commanders themselves", Bogilovic said, describing those formations as "teams for the salvation of the people". "There was a war, and we gave them military names, but the people still called them Hakija's troops, Zulfo's troops, Naser's troops…", the witness said.
Bogilovic also confirmed the defense argument that "no chain of command was established" and that Naser Oric, although the commander of the Srebrenica Territorial Defense staff, "had no influence over the appointment of local commanders" because they were "elected by the locals."
The prosecution once again faced a situation in this trial where its witness confirms the defense arguments in the cross-examination. The judges noted this. In the re-direct, the prosecutor tried to point to the witness the inconsistencies in his testimony, but Bogilovic persistently avoided giving a direct answer. After several interventions, Presiding Judge Carmel Agius told the witness that he hoped his testimony would end soon because he did "not believe him" as the witness had been "trying for fifteen full minutes to avoid answering the questions" put to him.
In response to the last few questions put by prosecutor Patricia Sellers, Bogilovic finally agreed that Naser Oric, as the TO staff commander, commanded all the "groups" which were organized into units at those two meetings. He also confirmed that Naser Oric had never refused to be the commander of those groups.
At the end of his testimony, Becir Bogilovic was not allowed by the judges to greet the accused. Naser Oric's trial will continue on 4 April.