Home
GENERAL MORILLON'S FAILED ESCAPE BID FROM SREBRENICA
British colonel Pyers William Tucker testified today about a failed escape bid of General Morillon from Srebrenica in March 1993, his decision to stay with the refugees and why the general could not convince "colonel" Oric to stop the fighting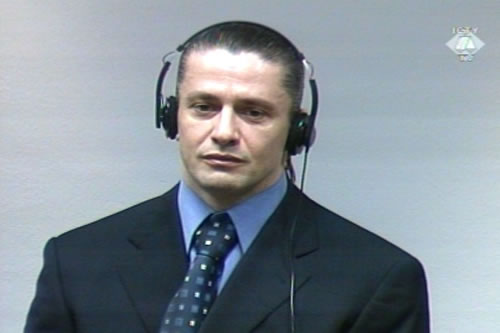 Naser Oric in the courtroom
British colonel Pyers William Tucker testified today at the trial of Naser Oric about how and why the French general Phillipe Morillon, the then commander of UNPROFOR in BH, decided to stay in Srebrenica longer than he planned in March 1993.
On arrival in Srebrenica on 11 March 1993, Morillon and his escort were taken to the PTT building where they had several meetings with the municipal war presidency. When they tried to leave the next morning, they were surrounded by refugees and thus prevented them from leaving town. The refugees were afraid that the Serb forces would resume their shelling of Srebrenica after the departure of the UN representatives. This is precisely what happened in neighbouring Konjevic Polje, after the UN team left the town, the witness explained.
The second night after their arrival in Srebrenica, General Morillon planned his escape, as the witness recounted. Dressed in a jacket with a hood on his head, Morillon crept out of the PTT building and hid in the nearby remnants of a destroyed house, waiting for Tucker to pick him up in an armored personnel carrier. However, Tucker could not start the APC without attracting the attention of the refugees who monitored his every step.
As he waited, general Morillon observed the endless columns of refugees walk through the blizzard from Konjevic Polje and entering the town. The witness said that the next morning Morillon went back to the PTT building and said: "I will stay!"
Every shell fired on Srebrenica would cost at least ten lives, General Morillon estimated. That is why, the witness said, Morillon tried to arrange a cease-fire, the free passage for the aid convoys, opening of a helicopter corridor for the evacuation of the wounded. An idea was also broached to declare Srebrenica an open city under the protection of the UN. But, the fighting had to stop, and the general, as the witness explained, could not convince "colonel" Oric to agree to it.
As Tucker said, "colonel" Oric said he didn't care and that he wouldn't surrender the weapons, that he would continue to fight in order to obtain the resources he needed to defend the enclave because every bullet that was fired in its defense had been taken from the enemy. When Morillon asked Oric whether there were any Serb prisoners in Srebrenica, Oric never answered.
Naser Orich, former commander of the BH Army forces in Srebrenica area, is charged in the six counts of the indictment with plunder and burning of Serb villages in Eastern Bosnia and the beating and killing of Serb detainees in the Srebrenica police station.