Home
"YOUR GUYS ARRESTED OURS, SO WE HAVE TO ARREST YOU"
At the trial of Naser Oric, protected witness C7 described how he had been liberated from detention in Srebrenica by "Philippe Morillon's blue helmets"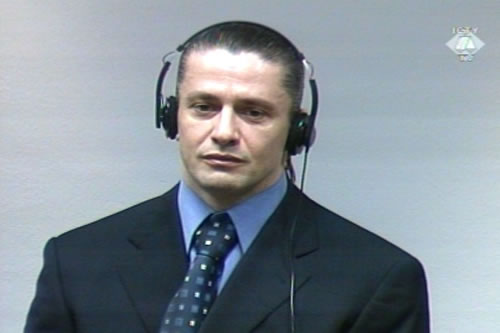 Naser Oric in the courtroom
"Your guys arrested our guys, so we have to arrest you," – that was the only explanation witness C7 got after eight months in detention in Srebrenica and the nearby village of Rovasi. The protected witness testified about at the trial of the former commander of BH Army units in Srebrenica Naser Oric.
In the summer of 1992, after he had taken his wife and children to Serbia, he encountered soldiers in camouflage uniforms that took away his horse, confiscated his corn, tied him up and took him to the Muslim village of Rovasi. He was detained in a barn with five other Serbs and three Muslims.
During his detention in the barn, which lasted approximately six months, C7 was beaten countless times and would often "faint from the beatings." As far as he was able to see "during the time he was conscious", the other detainees fared no better. They would be beaten almost on a daily basis by "visitors" who came to the barn at day- and night-time.
Sometime after Christmas 1993, the witness recounted, "men in uniforms" took him and the other detainees to the "police station in Srebrenica", where the beatings continued. Badly beaten and in agony, the witness was not aware how long he spent there; he does not remember who beat the prisoners. "I came to know this guy that beat me, kicking me in the stomach with his military boots," the witness said. He confirmed that two of the detainees in his cell had died of the injuries they sustained during the beatings.
The only period when they were not beaten was the time they spent in the hospital, where they were taken about ten days before their release. Partially recovered, they were taken back to the prison where they were picked up by the "blue helmets". "Philippe Morillon and the people with blue helmets or berets," the witness said, carried him into a white armored personnel carrier on a stretcher, since he could not walk. They were terrified, as he described "by all those animals they had to take off me."
C7 said that, according to the information he got in the hospital, he weighed "about 30-40 kilos, had scars from sharp objects all over his body and head and was crawling with lice". He never was informed what crimes he was charged with or why he was detained and tortured from the summer of 1992 until the early spring of 1993. His testimony will continue tomorrow.