Home
WITNESS FOR BOTH SIDES
Troops commanded by Naser Oric attacked the Serb villages in the Srebrenica area to get "arms and ammunition", while civilians looking for food "plundered, ransacked and burned the houses," prosecution witness Nedret Mujkanovic claims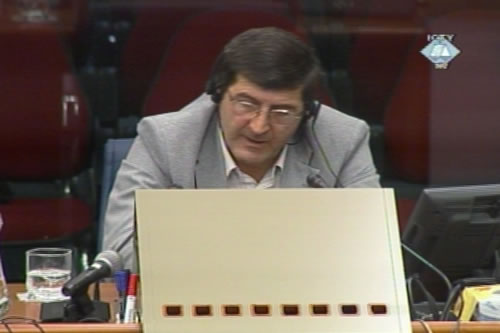 Erdin Arnautovic, witness in the Halilovic case
Units commanded by Naser Oric carried out several "attack actions" in the Srebrenica areas between September 1992 and February 1993, Dr. Nedret Mujkanovic confirmed today as he continued his testimony. He is a pathologist from Tuzla, who treated soldiers and civilians wounded in those attacks as he worked as a surgeon in the Srebrenica war hospital.
He confirmed the allegations in the indictment about "wanton destruction and plunder" of the Serb villages but also the defense argument that those were "desperate attempts of starving civilians to find food". Dr. Mujkanovic at times seemed more like a defense witness, despite the fact that he was in fact called by the prosecution.
"The survival instinct was stronger than death", Mujkanovic said, describing why the civilians, as he testified, "raided the villages, carrying away food, household appliances and furniture from the houses and then setting the houses on fire". He confirmed that all the attacks were organized in the same way. First, the troops would get in, take control of the village, seize any weapons and ammunition they could find and then the civilians would come in and get all the rest.
All the attacks were planned in strictest secrecy, the witness claims, describing how "even the hospital would receive notification of an attack only when it was imminent." When asked by the presiding judge how it was possible that the civilians had participated in the attacks en masse despite the secrecy, Mujkanovic explained that every soldier would warn his family that there would be an attack, so that they could get ready to "be the first to enter the village" immediately after the troops.
"Some of them would get into the villages even before the troops," the witness said, describing how in some cases the first wounded to come in would be civilians.
When Judge Agius asked him to confirm a claim he made in a statement given to the investigators in 2000 that "Naser Oric was present and commanded all those attacks", Mujkanovic was unable to do so in full. He made this conclusion, he says, on the basis of the conversations he had with the wounded in the hospital and with Oric himself. He claims that Oric would come to visit the wounded.
Mujkanovic claims that "the soldiers did not burn houses in the villages they attacked." As he says, they were only interested in weapons and ammunition, while the burning of houses was "some kind of revenge by civilians." He also confirmed that such conduct could be anticipated during every further offensive launched by the units under Naser Oric's command.