Home
REAL LIONS AND FABRICATED CAMPS
Wartime information minister in the Bosnian Serb government maintains his 1992 claims about "Muslim fanatics feeding Serb children to the lions in the Sarajevo zoo" are true. At the same time, he says the facilities in the Serb-controlled territory described as concentration camps in the foreign press were in fact "centers where refugees were taken care of"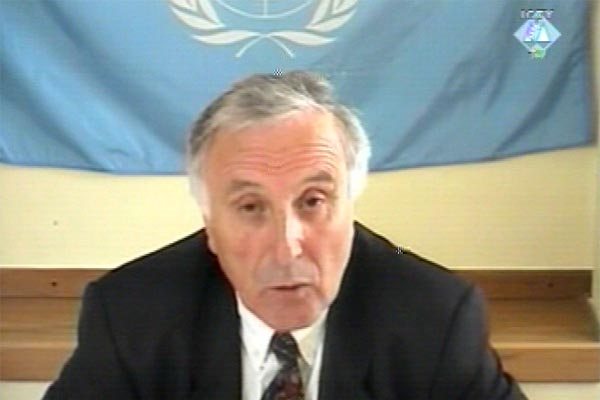 Velibor Ostojic testifying through video-link from Belgrade during the Krajisnik trial
In 1992, during the war, the Serb media in BH "did not toe the SDS line", reporting the events "impartially and professionally", Velibor Ostojic says. He was the information minister at the time, now testifying at the trial of Momcilo Krajisnik. Answering the judges' questions, he said his ministry had created conditions or objective reporting, and was adamantly opposed to the dissemination of false stories to avoid spreading panic among the population.
A while later, the prosecutor confronted the witness with a recording of an interview he had given to Radovan Brankov, Belgrade TV correspondent, in 1992. In the interview, Ostojic claims that "the Muslim fanatics and butchers feed Serb children to the lions in the Sarajevo zoo" and that "a raft made of Serbs' dead bodies was removed" from the Drina river.
When asked if "this was the truth disseminated by his ministry", Ostojic said this information had been obtained by the Serbian Interior Ministry and had been verified. He added that it had been necessary for the public to know "what is happening on the ground".
On the other hand, the witness saw "the situation on the ground" in quite a different light than most foreign reporters when it came to the camps in Serb-controlled parts of BH. The claims in the media that thousands of non-Serbs were detained in concentration camps in the summer of 1992 throughout the Serbian Republic of BH were denied by Ostojic, then and now. He said that those were "centers where refugees were taken care of, refugees who had come there willingly". Keraterm, Omarska, Trnopolje and Manjaca were such camps, he said.
A protected prosecution witness said in his testimony that Velibor Ostojic had been one of the main organizers of the attack on Foca and the expulsion of the Muslims from the town. He described that during the Serb attack on Foca in April 1992, Ostojic had told his compatriots to "shoot anything that moves and to slaughter anything that they can lay their hands on". Ostojic claims that he had spent the whole of April in his family home, without a telephone line, in a village 25 km from Foca, because his father had died. He was thus, he says, "physically unable" to address the public over the radio.
But, the prosecutor went on to show him transcripts of his statements to Radio Belgrade on 8 and 14 April 1992, asking Ostojic how he had been "physically able" to give statements for Radio Belgrade, but not for Radio Foca. The witness says that he gave those statements on the occasion of his visit to his uncle who did have a telephone. "Some reporters" found him there and asked him for a statement.
Velibor Ostojic's testimony ended today. A new witness called by the judges should take the stand tomorrow.