Home
KRAJISNIK REGRETS HAVING "TALKED NONSENSE"
Commenting a speech he made in 1993, denying the Muslims the right to exist as a nation, Momcilo Krajisnik, the accused testifying in his own defense, said at the beginning of his cross-examination that he had been "talking nonsense" at the time, adding he was "very sorry" for that now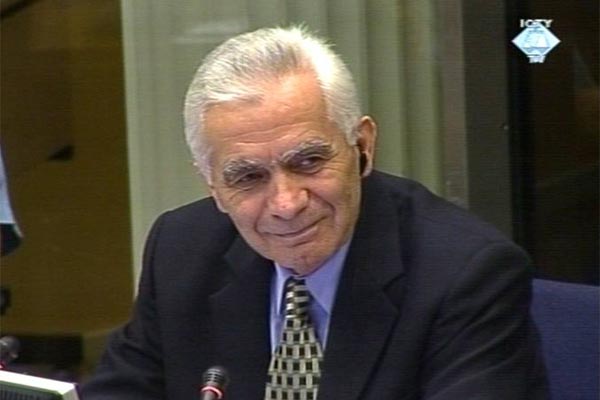 Momcilo Krajisnik testifying in his own defense
In his examination-in-chief, Momcilo Krajisnik claimed that he had respected the Muslim people, never speaking about them in derogatory terms and deeply disagreeing with the war-mongering and extremists SDS deputies and officials. At the beginning of the cross-examination, the prosecutor confronted him with some speeches that contradict those claims.
The prosecutor reminded Krajisnik that in August 1994 at a rally in Banja Luka he had said he felt "sorry for all those who are not Serbs" and that it was impossible to live with the Muslims if they refused to be Serbs. Krajisnik now explains that when he said that he was merely "refuting ineptly" what the previous speaker at the rally had said. Former president of the government of the Krajina Autonomous Region, Vojo Kupresanin said that the Muslims did not exist as a nation. Krajisnik believes that he "recognized Muslims as a nation" when he said that it was impossible to live with them.
At a session of the RS Assembly in January 1993, Kupresanin called the Muslims "a religious sect of a Turkish orientation". Krajisnik, as the Assembly speaker, again disagreed with Kupresanin, saying that the Muslims should not be "handed" the attribute "Turkish" because they could use it to argue that they are a nation descended from Turks, "just as the Siptars claim they are descendants of the Illyrians". Krajisnik concluded by saying that the Muslims were known to be "infidels and a nation that is not a nation".
As in all the other situations in which he disagreed with his previous statements, Krajisnik used third person singular to speak about himself. "What Krajisnik was saying here is nonsense," he said today, adding that he was "very sorry that this man Krajisnik said something like that", adding he wanted to distance himself from all that. Although he did say all those things, he now says, he never meant them.
In the second part of the cross-examination today, the prosecutor insisted on the argument that from early 1993 to the end of the war, the Bosnian Serb leadership had been trying to retain the territorial gains and the results of ethnic cleansing achieved by the end of 1992. Alan Tieger confronted Krajisnik with several speeches made by Radovan Karadzic in that period in which he opposed the return of the Muslim to the "now homogenous Serb territory", calling for measures to prevent that. Krajisnik replied that this was just Karadzic's "rhetoric", adding that the then RS president "did not mean what he said".
Momcilo Krajisnik's cross-examination will continue tomorrow.