Home
PRALJAK TO DEFEND HIMSELF
Slobodan Praljak notifies the Tribunal that he will be defending himself at the forthcoming trial of the six political and military leaders of the so-called Herceg-Bosna, because he has "no money to pay for the lawyers and they don't want to work for free"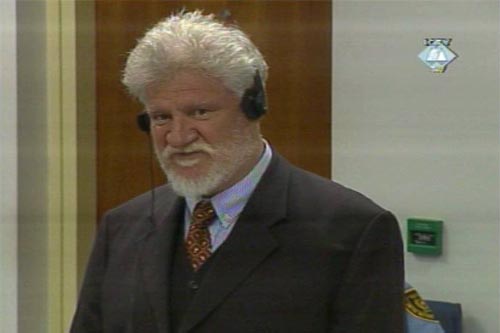 Slobodan Praljak in the courtroom
Just like Slobodan Milosevic and Vojislav Seselj, Slobodan Praljak wants to defend himself at his trial before the Tribunal. In his case, however, the reasons are not political and legal, but financial. In a brief fax message to the Registry he has sent recently, Praljak says he will be defending himself because he has "no money to pay the lawyers, and they don't want to work for free".
The Registry has taken notice of Praljak's decision and ordered his current defense counsel to hand over all the documents pertaining to his case to the accused.
The document signed on 3 November 2005 by the deputy register presents a brief overview of the issue of Slobodan Praljak's defense. On the day of his transfer to The Hague, 5 April last year, the accused notified the Registry he would not be asking to be appointed defense counsel at the expense of the Tribunal and that he would be represented by Zagreb attorney Kresimir Krsnik. In mid-June, Praljak informed the Registry he had fired Krsnik and hired Bozidar Kovacic and Nika Pinter as his new defense counsels.
In September 2004, Praljak submitted the statement of his financial status to the Registry, asking the Tribunal to finance his defense, as he himself did not have enough money to do that. In addition to the statement, the accused must provide any relevant information needed to determine their financial status. Praljak refused to do so and his request was rejected on 17 June 2005. After that, Praljak withdrew his power of attorney to his defense team and notified the Registry he would be defending himself.
Praljak is charged with participation in a joint criminal enterprise, together with five other former Bosnian Croat political and military leaders – Jadranko Prlic, Milivoj Petkovic, Bruno Stojic, Valentin Coric and Berislav Pusic. The purpose of the enterprise was to "politically and militarily subjugate, permanently remove and ethnically cleanse Bosnian Muslims and other non-Croats who lived in areas on the territory of the Republic of Bosnia and Herzegovina which were claimed to be part of the Croatian Community of Herceg-Bosna". The trial will, it seems, begin next spring. This will be discussed at the status conference scheduled for this afternoon.