Home
PRLIC ET AL.: HEARING ON PROVISIONAL RELEASE
The defence seeks provisional release of six former Herceg-Bosna leaders, stating that all the requirements have been met. The prosecution opposes the motions, considering that there is a danger that the accused would not return to the Detention Unit and that they would try to interfere with the witnesses and victims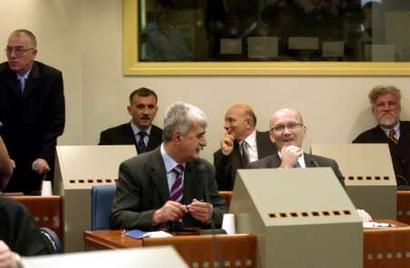 Jadranko Prlic and Bruno Stojic in the front row and Slobodan Praljak, Milivoj Petkovic, Valentin Coric and Berislav Pusic in the back row
The defence counsel for the six former military and political leaders of Herceg-Bosna, charged with crimes against Bosniak civilians, presented their oral arguments for the provisional release of the accused today. In their view, all the requirements stipulated by the Rules of Procedure and Evidence of the Tribunal have been met. The prosecution, however, opposes the provisional release. In their opinion, there is a possibility that the accused might fail to return to the Detention Unit and that they might interfere with the victims and witnesses, as they are charged with very serious crimes.
The defence counsel deem that the voluntary surrender of the accused is a clear sign that they do not intend to flee from justice. They also note that the accused have not tried to interfere with the witnesses or with investigations conducted by the Office of the Prosecutor in the past years when rumors about their being indicted by the Tribunal were rife. If the judges are not satisfied with the arguments, the defence counsel propose that the accused be confined to house arrest in their places of residence. As in their estimate the pre-trial proceedings will take quite a long time in a case of as complex as this one, the defence counsel feel that the rights of the accused will be violated by their long pre-trial detention in Scheveningen.
The representatives of the governments of both the Republic of Croatia and the VH Federation have presented guarantees that the accused residing at their respective territories would be arrested and transferred to The Hague in case they fail to respond voluntarily to the summons of the Tribunal.
Prosecutor Kenneth Scott, however, "has concerns regarding the guarantees furnished by these states in light of the reality in the field". In the former Yugoslavia, "it is still difficult to supervise the accused," the prosecutor claims. If the Chamber decides to release the accused, the prosecutor urges it to impose the strictest possible conditions of provisional release on them.
Former Herceg-Bosna prime minister, Jadranko Prlic, former HVO commanders Slobodan Praljak and Milivoj Petkovic, former HB defence minister Bruno Stojic, former HVO Military Police commander Valentin Coric and the former head of the HVO commission for the exchange of prisoners Berislav Pusic are charged with persecutions, murders, detention and deportation of Bosniaks in areas declared as part of Herceg-Bosna and for destruction and plunder of property.
At the end of the hearing, the accused themselves addressed the Chamber, giving their personal guarantees that they would comply with any orders issued by the Tribunal.
The Trial Chamber, presided by the Dutch judge Alphons Orie, will rule on the motions filed by the accused at a later date, after it has studied all the arguments presented.