Home
PRLIC ET AL. TO BE PROVISIONALLY RELEASED
The prosecution motion seeking leave to appeal the decision on provisional release of Prlic et. al. dismissed – Preparations underway for their release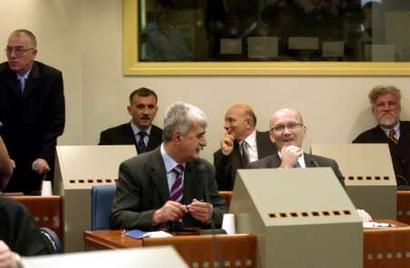 Jadranko Prlic and Bruno Stojic in the front row and Slobodan Praljak, Milivoj Petkovic, Valentin Coric and Berislav Pusic in the back row
The Appeals Chamber did not grant the prosecution leave to file an appeal against the provisional release of the six former Herceg-Bosna political and military officials, which means that preparations for their departure from the Tribunal Detention Unit will begin immediately.
In June, Jadranko Prlic, Milivoj Petkovic, Slobodan Praljak, Bruno Stojic, Valentin Coric and Berislav Pusic – who surrendered to the Tribunal in April – sought to be provisionally released pending trial. The Trial Chamber hearing their case granted the motion and the decision was made public on 2 August. The prosecution immediately indicated that it would appeal and requested that the order for their provisional release be stayed until the issue of the appeal has been adjudicated.
The provisional release was stayed, and the prosecution then formally sought leave from the Appeals Chamber to file an appeal, arguing that the decision of the Trial Chamber did not give enough weight to the severity of the charges and the possibility that the accused might refuse to return to the Detention Unit if released. They are charged with the campaign of military attacks and persecution of Bosniaks in the municipalities declared to be part of Herceg-Bosna. The prosecution application furthermore stated that the Chamber should have taken a more critical view of the efficiency of the Croatian authorities in terms of their ability to arrest the accused who refuse to return to the Detention Unit and that it gave too much weight to the claims by the accused that they would not try to interfere with witnesses and victims because they had not tried to do so earlier. The prosecution finally deems that the Trial Chamber erred in not imposing stricter conditions for the provisional release of the accused, for instance, house arrest.
A bench of three judges of the Appeals Chamber ruled in its decision of 8 September that the prosecution in its arguments, failed to "identify possible errors in judgement made by the Trial Chamber." The prosecution was therefore denied leave to appeal and the decision on stay of the provisional release was voided. The six former Herceg-Bosna leaders will be set free as soon as all administrative and logistic preparations have been completed.