Home
CONFLICT OF OPINION ABOUT CONFLICT OF INTEREST
The judges in the Prlic et al. case should render two decisions shortly: one about the provisional release and the other, about whether there is a possible conflict of interest between the accused represented by the same lawyers. The prosecutor believes that there might be conflict of interest, while the accused and their defence counsel deny it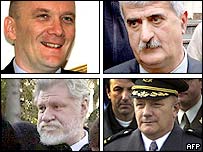 Jadranko Prlić, Milivoj Petković, Bruno Stojić i Slobodan Praljak
Three lawyers representing the accused in the Prlic et al. case maintain that there is no conflict of interest between their clients in this case and the clients they represent in other cases before the Tribunal.
At a special hearing, each of the defence counsel answered a series of questions asked by Judge Alphons Orie, who presented hypothetical situations in which arguments presented in the defence of one client might be detrimental to the other. The defence counsel stated that for the time being they failed to see any such situation arising.
As early as at the initial appearance of the accused in the Prlic et al. case in April, the prosecutor raised the issue of possible conflict of interest in cases where two accused were represented by the same lawyer, since some of the charges against them overlapped.
Former Herceg-Bosna prime minister, Jadranko Prlic is defended by Zelimir Par, as co-counsel. Par is at the same time defending Vinko Martinovic Stela, former HVO member, whose case is currently under appeal. Both Prlic and Martinovic are charged with crimes in Mostar.
Former HB defence minister, Bruno Stojic is represented by Zeljko Olujic, who is also defending Ivica Rajic, former HVO commander in Kiseljak. Both accused are charged with the crimes in Stupni Do.
Lawyer Tomislav Jonjic is defending Valentin Coric, former commander of the HVO Military Police in one case, while in another, he is defending Pasko Ljubicic, former MP commander in central Bosnia, indicted for the crime in Ahmici, which is not explicitly alleged in the indictment against Coric.
The three accused in question – Prlic, Stojic and Coric – addressed the court today, stating that they believed that the appointed lawyers would best represent their interests and that they were unwilling to have other counsel replace them. However, one of the accused has already changed counsel since his inital appearance: the accused Slobodan Praljak appointed Bozidar Kovacic as his defence counsel instead of Kresimir Krsnik.
The Trial Chamber announced it will render its decision on the issue "as soon as posible".