Home
EVICT, BURN AND EXPEL
"Guardian" reporter, testifying before the ICTY for the sixth time, describes how he covered the break-up of the Croat-Muslim alliance in Herceg Bosna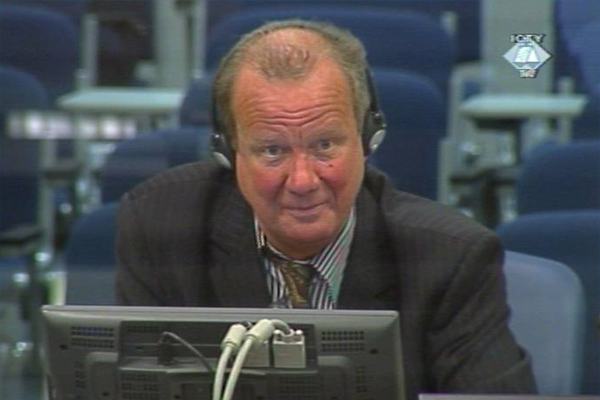 Edward Vulliamy testifying
British reporter Edward Vulliamy took the witness stand for the sixth time at the ICTY. This time he is testifying as a prosecution witness at the trial of the six Herceg Bosna leaders – Jadranko Prlic, Milivoj Petkovic, Bruno Stojic, Slobodan Praljak, Valentin Coric and Berislav Pusic. He has already testified at the trial of Tihomir Blaskic and four cases dealing with the Prijedor camps (Tadic, Kovacevic, Stakic and Sikirica et al.).
In early August 1992, Vulliamy was among the small group of Western reporters who managed to visit the infamous Prijedor camps. The images and descriptions of Omarska and Trnopolje were broadcast all over the world. Immediately after that, Vulliamy testified today, he accepted a challenge by Bosnia Serb leader Nikola Koljevic, who urged the Western reporters to look for camps where Serbs were imprisoned. He mentioned Capljina as an example.
Vuillamy managed to get to Capljina through Hungary and Zagreb. Together with an AP correspondent, he managed to get permission from a local HOS commander, Milan Dedakovic, to visit a camp he later learned was Dretelj. This was on 13 or 14 August 1992.
"The detainees were Serbs in different age groups," Vuillamy testified, describing how the reporters were allowed to speak to some of them, but in the presence of the camp commander, "patently unhappy" with their presence. Reminding the court of his experience in Omarska, Vuillamy described that the detainees in Dretelj were in a very bad state, but there were no signs of violence. They were subjected to "extreme neglect and humiliating rituals, such as strict procedures for sitting down, getting up and expressing gratitude," the witness said.
What the British reporter found particularly disturbing and baffling was when he discovered a building within the camp perimeter where he saw a large number of female detainees. When they asked to be allowed to visit the building, Vuillamy said, they were advised "not to insist on it". They were threatened "not to mention the women in their reports if they wanted to stay alive".
On the basis of what he saw in Vitez, Mostar, Prozor and Travnik within the next two months, the British reporter concluded that the Croat-Muslim alliance in Herceg Bosna was over. He witnessed the fighting in Travnik and Vitez. When in late October 1992 he learned of an HVO ultimatum for Muslims to disarm or place themselves under HVO control, he went to Mostar and then to Prozor.
Yet again, he was astonished by what he saw. On access routes to Prozor he saw many troops and artillery dug in on positions on the heights around the town. The Prozor main street was "a mess", there were signs of shelling everywhere, almost every fifth house had been burned down, and the soldiers were busy looting the shops. In those events in Prozor, Vuillamy recognized the "pattern of ethnic cleansing" he had seen as a war correspondent in the operations the Serb forces had launched in eastern Croatia and north-western Bosnia. He summed up the pattern as follows for the judges: "Evict them, burn them and expel them!"
Ed Vuillamy will continue his testimony tomorrow.