Home
ONE ACCUSED PLEADS "NOT GUILTY", THE OTHER FAILS TO SHOW
At the initial appearance, former editor-in-chief of Hrvatsko slovo, Marijan Krizic, pleaded not guilty to charges of contempt of court. Former editor-in-chief of Slobodna Dalmacija Josip Jovic failed to show. An arrest warrant will probably be issued against him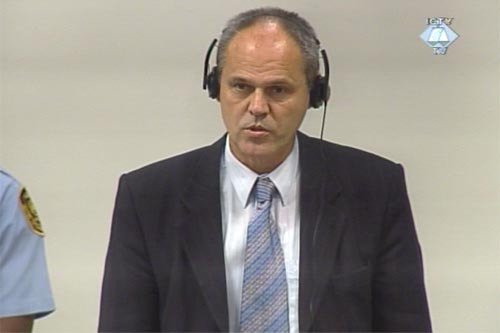 Marijan Krizic in the courtroom
Former editor-in-chief of the Hrvatsko slovo weekly, Marijan Krizic, pleaded not guilty to the charge of contempt of court, while the former editor-in-chief of Slobodna Dalmacija, Josip Jovic, failed to appear before the Tribunal. The prosecutor will now seek the ICTY judges to issue a warrant for his arrest.
Jovic's lawyer sent a memo to the Tribunal three days ago asking for the initial appearance to be postponed, Judge Alphons Orie revealed. In the memo, he notes that the Tribunal does not have jurisdiction over Jovic and that he first intends to determine whether the Croatian Constitution and law bind him to cooperate with the international tribunal. Both Jovic and Krizic are charged with contempt of court because they published the identity and testimony of a protected witness in the Blaskic case.
Although the judges have in the meantime rejected Jovic's request for postponement, he failed to appear in The Hague. The "Chamber will examine what measures are to be taken now", Judge Orie said today, adding that "issuing an arrest warrant is a measure that should be taken into consideration."
At a separate hearing some twenty minutes later, Marijan Krizic pleaded not guilty to the charge. It was then agreed that his temporary defense counsel would take over the supporting material. Krizic was represented today by Belgrade lawyer Mira Tapuskovic, because his lawyer had not yet been registered as a defense counsel before the Tribunal.
The start of the trial was not set yesterday because the judges have not yet ruled on the prosecution motion to join the indictments against Krizic and Jovic with that against the former publisher and editor in Hrvatsko slovo, Stjepan Seselj and Domagoj Margetic, charged with the publication of the identity and testimony of the same witness.