Home
INITIAL APPEARANCE AND CLARIFICATION
Josip Jovic entered his plea before an ICTY judge. His lawyer indicated he would be contesting the jurisdiction in this case before Tribunal, not before the courts in Croatia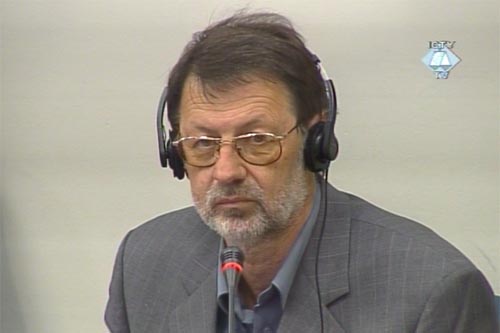 Josip Jovic in the courtroom
Josip Jovic, journalist from Croatian daily Slobodna Dalmacija who refused to attend his initial appearance before the ICTY on 26 September, pleaded not guilty to contempt of court charges in The Hague today.
After he was indicted for publishing the identity and testimony of a protected witness in the Blaskic case. Jovic failed to appear at his initial appearance on 26 September, stating he wanted first to examine whether the Croatian law obliged him to cooperate with the international Tribunal.
Judge Alphons Orie then noted that the jurisdiction of the Tribunal can be challenged once the accused appeared before the court. The judge issued a warrant for Jovic's arrest in Croatia and his transfer to The Hague. Jovic spent last week in detention in Split. He was released yesterday and appeared before a judge in The Hague today.
His defense counsel Kresimir Krsnik said today his client would respond to every summons from the Tribunal and that the defense would "engage in legal debate about the jurisdiction - before this court". The judge ordered that the defense file its motions by 26 October.
The judge considers that keeping the accused in detention would be "disproportionate to the situation in this case" and Jovic returned to his home country the same day.