Home
MOTION FOR JOINDER OF INDICTMENTS AGAINST CROATIAN JOURNALISTS
Prosecutor files a motion to join the indictments against four Croatian journalists and editors who published the testimony of the same protected witness in the Blaskic case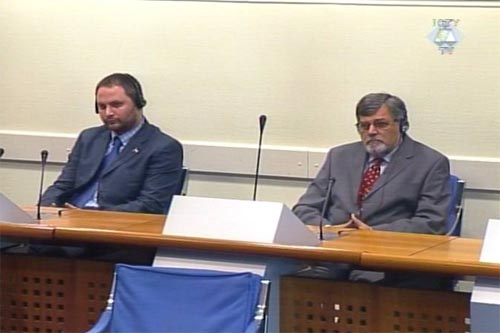 Stjepan Seselj and Domagoj Margetic in the courtroom
The prosecutor filed a motion to join the indictments against four Croatian journalists and editors who have been charged with contempt of court, so that they could be tried together.
"All four used their newspapers to publish the testimony of the same protected witness" who had testified in the Blaskic case, in violation of the orders of Tribunal, the prosecutor notes in the motion.
The indictment against Domagoj Margetic (of Novo hrvatsko slovo) and Stjepan Seselj (Hrvatsko slovo) was confirmed this April. They subsequently had their initial appearance before an ICTY judge and pleaded not guilty. The indictments against Marijan Krizic (Hrvatsko slovo) and Josip Jovic (Slobodna Dalmacija) were confirmed earlier this month. Their initial appearance has been scheduled for 26 September.
In the same motion, the prosecutor sought leave to amend the indictment against Margetic and Seselj. According to the prosecutor, those would be "limited" amendments which would not introduce new charges but explain in greater detail the prosecution case.