Home
STJEPAN SESELJ AND DOMAGOJ MARGETIC PLEAD NOT GUILTY
The prosecutor alleges that in November 2004, the publisher and editor of Hrvatsko slovo started publishing transcripts of the testimony of a protected witness in the Blaskic case, which constitutes contempt of court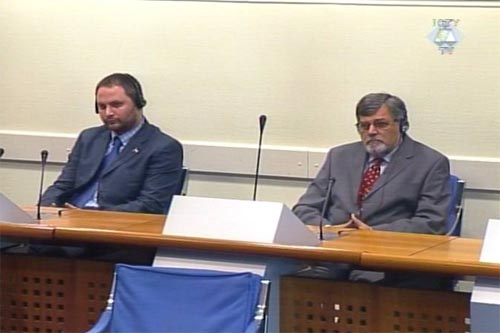 Stjepan Seselj and Domagoj Margetic in the courtroom
Stjepan Seselj, publisher of the weekly Hrvatsko slovo and Domagoj Margetic, its editor, pleaded not guilty today on charges of contempt of court. They have been charged by the Office of the Prosecutor, which alleges that they have published transcripts of the testimony of a protected witness.
The indictment was issued in April 2005. Seselj and Margetic were subsequently summoned to appear in The Hague today, to enter their plea on the charges. The indictment alleges that on 26 November 2004 they began publishing the transcripts of the testimony of a protected witness, who testified in the Blaskic case in closed session on 16 March 1998.
At the request of the Chief Prosecutor, the Tribunal issued an order to Hrvatsko slovo on 1 December 2004 to cease the publication of the transcripts. Seselj then indicated he would comply with the order, while Margetic published an open letter, informing the ICTY President that he did "not recognize the Tribunal and its orders." He proceeded to publish other transcripts of the testimony of the same witness in another weekly, Novo hrvatsko slovo. He is therefore charged in two counts of the indictment, and Seselj in one count.
The prosecutor will today hand over to the defense the supporting material and then the two sides will start preparing their cases. The dates for the next status conference or the trial itself have not been set today.