Home
IVICA MARIJACIC AND MARKICA REBIC "NOT GUILTY"
Journalist and former Croatian intelligence chief pleaded not guilty to charges of contempt of court today. Their defense indicated they would file motions to dismiss the indictment, while prosecutor continues with the investigation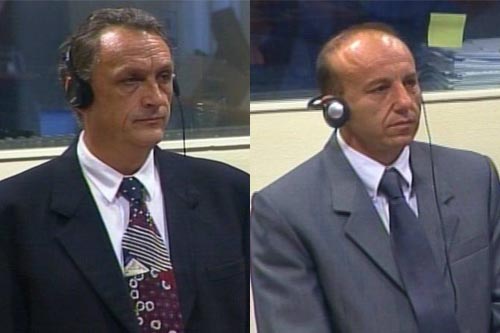 Ivica Marijacic and Markica Rebic in the courtroom
Croatian journalist Ivica Marijacic and former civil servant Markica Rebic pleaded not guilty today to charges of contempt of court. Their lawyers indicated they would be filing motions to dismiss the indictment; in their view, it was not issued "in accordance with the Rules."
Ivica Marijacic, journalist and editor in the Croatian weekly Hrvatski lis,t and Markica Rebic, former head of the Croatian intelligence service SIS, are charged that on 18 November 2004 they published the identity and testimony of a protected witness who testified in closed session at the Blaskic trial on 19 December 1997. The indictment alleges that Rebic confirmed, in an interview given to the weekly, that he had given the materials to the editors.
The prosecutor noted today that "there is no great dissension about the facts in this case, but there will be debate about its legal aspects." Marijacic's defense counsel Marin Ivanovic noted that "the Tribunal does not issue its orders urbi et orbi" and that as far as his client was concerned, "he was not issued any order that he could then violate."
Rebic's lawyer Kresimir Krsnik thinks that "the prosecution has expanded its powers beyond all measure" and that these charges are "dangerous precedents impinging on the freedom of the press", not only in Croatia but in a wider context.
While the defense seeks the dropping of the charges, prosecutor David Acherson says the prosecution is conducting additional investigations which might lead to further charges.
This afternoon, there will be another initial appearance on charges of contempt of court; the accused are Stjepan Seselj, the publisher of the weekly Hrvatsko slovo and Domagoj Margetic, its editor.