Home
THE TORBARI: CIVILIANS OR FIGHTERS?
"It was hard to distinguish fighters from civilians" in Srebrenica in 1992 and 1993, Naser Oric's defense witnesses claim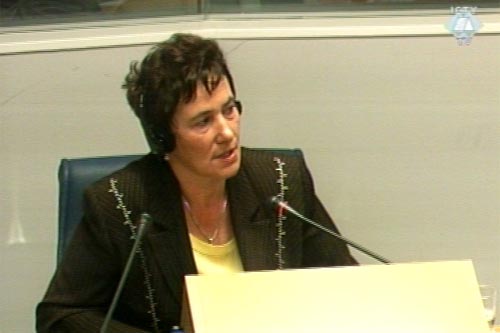 Sabra Kolenovic, defense witness for Naser Oric
"Everyone in Srebrenica was a fighter," Sabra Kolenovic said at the end of her testimony at Naser Oric's trial, when defense counsel John Jones asked her if it was true that "in order to survive, even the women and children were fighters in the enclave in 1992 and 1993."
The defense is trying to support its argument that the "Bosnian Serbs' property" was not destroyed by the units commanded by Naser Oric, but by "starving civilians" whom no one could control as they desperately searched for food. Several defense witnesses, including Sabra Kolenovic, claimed that "it was difficult to distinguish civilians from fighters" at that time. The prosecution is trying to contest the arguments.
During the direct examination, the witness said that her husband "criticized the civilians for creating chaos" during the attack on the village of Kravica in January 1993. Prosecutor Joanna Richardson concluded that in that case "it was possible to distinguish civilians from fighters." Although she did confirm this at first, Sabra Kolenovic later corrected herself, saying that her husband "criticized her and not civilians", not during the action but after they returned home.
The witness maintains that when thousands of civilians participated in actions "spontaneously" their movements were not coordinated. As she testified, she did not know Naser Oric before the conflict in Srebrenica. In 1992, she saw him in hospital, "very shaken" after an action in which many fighters were killed. "I heard somebody say, "this guy who's shouting is Naser," Sabra Kolenovic said.
Naser Oric's trial will continue on Monday.