Home
THE SURPRISE FACTOR IN KRAVICA
The Serb forces, which vastly outnumbered the Bosniak attackers and were much better armed, were nevertheless overwhelmed in the surprise attack on Kravica, claims witness Buric, testifying in defense of Naser Oric. Buric participated in the attack on Kravica on 7 January 1993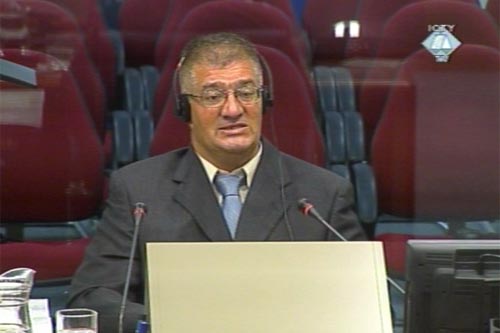 Nesib Buric, defense witness for Naser Oric
As the trial of Naser Oric continues, Nesib Buric described the attacks launched by the Muslim forces on the villages of Fakovici and Kravica. He himself participated in those attacks.
As Buric testified, on 5 October 1992, he entered the Serb village of Fakovici with a group of "armed lads" from his home village of Osmace. He said he saw thousands of Muslim civilians who were already on the way back to their own villages, carrying sacks of grain. Just as the previous defense witnesses, Buric claims that "no one could control those people". He said that the civilians were there as soon as the fighting stopped as "they would always go wherever they heard shooting."
As he estimates, a well armed "professional battalion" of the Serb army, with about 300 troops, was stationed in Fakovici. Buric corroborated this claim by saying that there was a training area nearby. "Cadets would come there all the time". He added that his group had captured a large quantity of weapons and ammunition after entering Fakovici, "left behind by the Serbs as they retreated."
Buric and his group did not take Fakovici, because, as he described it, reinforcements arrived to the Serb forces in the afternoon, and then the "shelling started, from all directions, from all available weapons." He claims that the damage to the houses in Fakovici was caused by the Serb shelling, not by anyone "setting fire to them" during the attack on the village, as the indictment alleges.
One hundred and fifty-nine Muslims were killed in Glogova and the surrounding villages by January 1993, Buric testified. He claims that the Glogova and Kravica area was the "major Chetnik stronghold, even before the war." The attack by the Muslim forces on Kravica on 7 January 1993 was a reaction to the "daily incessant shelling from the Serb positions," in particular "when Serb soldiers got drunk" on the Orthodox Christmas Eve.
Buric claims that the "surprise factor" was used in the attack on Kravica on 7 January 1993. As he describes it, by the time the Serb soldiers realized they were under attack, he and his group reached as far as the village center. Again they managed to seize or destroy a large quantity of weapons, including a tank.
The witness claims that houses were not set on fire in Kravica. Although he personally did not enter more than two or three houses, he claims that "there was shooting coming out of every Serb house." His lads, as he described, defused the booby-traps set by the Serb troops on the arms depot as they were about to retreat. About a hundred automatic rifles and a lot of other infantry weapons were seized there.
Nesib Buric will continue his testimony on Monday.