Home
NO ONE COULD STOP THE 'TORBARI'
There was no substantial difference between civilians and fighter as they searched for food, Naser Oric's defense witness claims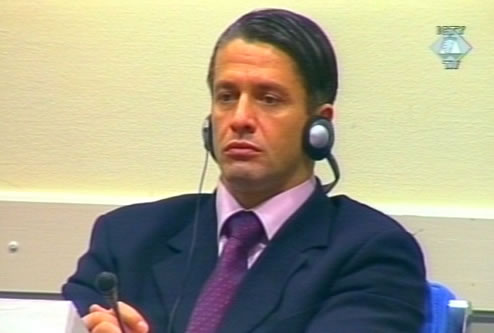 Naser Oric during the trial
There was hunger in Srebrenica in 1992 and civilians went into Serb villages, alone or with soldiers, to get food, Kada Hotic said, testifying as Naser Oric's defense witness.
In 1992, Kada Hotic herself took part in the foraging for food, together with a group of civilians called 'torbari'. "I went foraging for food nineteen times," the witness said. She confirmed that the 'torbari' (people carrying bags) often went after the BH Army units as they attacked. She described in detail the foraging expeditions in the villages of Fakovici, Bjelovac and Kravica.
Srebrenica was attacked by the Serbian forces in late April 1992 and devastated, the witness said, describing how the forces plundered and burned most of the houses as they retreated from the town. The defense against new attacks, she said, was organized by Akif Ustic and Hakija Meholjic. Most of the men joined them. Her son was among them.
Civilians went after the units as they attacked, because, as she said, "no one could prevent thousands of hungry people from looking for food." According to her, there was no substantial difference between the fighters and civilians because "there were no uniforms and civilians sometimes carried rifles they had seized."
After the attack on Fakovici on 9 October 1992, there was enough food in Srebrenica to last only ten days, and in November there was hunger everywhere. "People made bread of ground corncobs," Kada Hotic said, describing how she went looking for food first in the village of Bjelovac and then in the village of Kravica.
The witness neither confirms nor denies that in those actions Serb houses were burned after they were looted, as the indictment alleges. She described, however, how Hakija Meholjic "urged people not to burn the houses" because they would be needed to house a large number of refugees who came to this area fleeing Serb attacks.
Kada Hotic, whose testimony will continue tomorrow, is the vice-president of the Movement of the Mothers from Srebrenica and Zepa Enclaves. In July 1995, after the fall of Srebrenica, she lost her son, husband and two brothers.