Home
PROSECUTOR SEEKS 20 YEARS IN PRISON FOR FATMIR LIMAJ
The prosecutor asked for 20 years in prison for the first accused Fatmir Limaj, 18 years for Haradin Bala and 15 years for Isak Musliu, noting in his closing argument that in most national jurisdictions the accused charged with such crimes would be jailed for life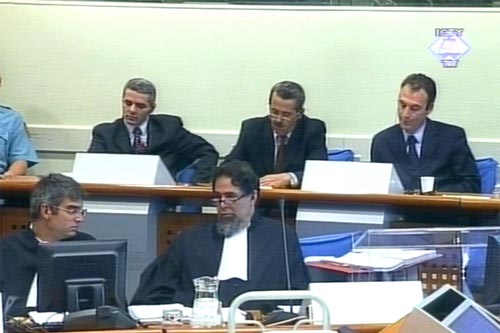 Isak Musliu, Haradin Bala and Fatmir Limaj in the courtroom
Any person charged with unlawful detention, beating, torture and humiliation of civilians and the murder of at least 23 people would be jailed for life in most national jurisdictions, if convicted, Alex Whiting said today, bringing to an end the prosecution closing arguments at the trial of the three former KLA members charged with the crimes in the Lapusnik camp in the summer of 1998.
Noting, however, that this is not "the judicial practice at this court", Whiting enumerated factors relevant for the sentencing policy at the Tribunal. The foremost among them is the seriousness of the offence. In the case of the Lapusnik camp, Whiting said, the offences were exceptionally serious, violent and humiliating, including cruel treatment of detainees, severe beatings and the murder of at least 23 Serbian and Albanian detainees. The offences spanned over a period of more than two months, until the KLA evacuated the camp in the face of an offensive launched by the Serbian forces. The offences were committed with premeditation, in an organized manner and, as Whiting stressed, with a "discriminatory intent." Serbs, he said, were targeted "just because they were Serbs and Albanians just because they allegedly had ties with Serbs."
Bringing his closing argument to the conclusion, the prosecutor sought 20 years in prison for the first accused Fatmir Limaj, the then commander of the KLA in the area which included Lapusnik; 18 for the prison guard Haradin Bala, who participated in the murder of 10 detainees in the Berisha mountains and 15 years for Isak Musliu who commanded the KLA unit stationed in Lapusnik and who was the camp commander, as the prosecution alleges.
The floor was then taken by Limaj's defense counsel, Michael Mansfield. He conveyed to the judges the wish of the accused Limaj to be allowed to address the Chamber with a ten-minute statement after his defense counsel concludes his argument. The Chamber will rule on the request later.
Photos