Home
LAPUSNIK CAMP TRIAL ENDS
The defense counsel for Fatmir Limaj, Haradin Bala and Isak Musliu consider that the prosecution has failed to prove beyond reasonable doubt the responsibility of their clients and sought their acquittal. The prosecution, however, recommends 20 years for Limaj, 18 for Bala and 15 for Musliu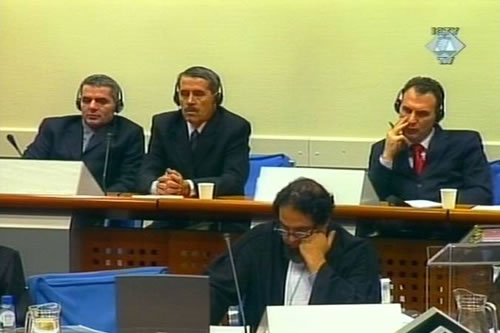 Isak Musliu, Hajradin Bala and Fatmir Limaj in the courtroom
Ten months after the start of the proceedings which took 90 working days the trial of three former KLA members charged with the crimes committed in the Lapusnik camp in 1998 came to an end.
In their closing arguments, the defense counsel of Fatmir Limaj, Haradin Bala and Isak Musliu pointed to the "unreliability of the evidence" presented by the prosecution, "inconsistencies" in the testimony of some key prosecution witnesses and alleged weaknesses in the identification of the accused by the survivors, former detainees from Lapusnik who testified in The Hague. Claiming that the prosecution failed to prove beyond reasonable doubt the responsibility of their clients, the defense counsel asked for all three accused to be acquitted.
Noting their "reluctance" because they are "convinced their clients are innocent," the defense counsel of Fatmir Limaj and Haradin Bala briefly touched upon sentencing at the end of their closing arguments. Counsel Michael Mansfield and Gregor Guy Smith ask for the "most lenient sentence" in case the Chamber finds Limaj and Bala quilty. In Limaj's case, as Mansfield said, the Chamber should bear in mind his political activities in support of "reconciliation in Kosovo". In Bala's case, the Chamber should take into account his health and the fact that, as Guy Smith said, "he doesn't have a lot of time left."
Isak Musliu's defense lawyer Michael Topolski – who did not present any case at all, on the instructions of his client – did not make any comments about sentencing, as that would have been "inappropriate," as he said.
The prosecution claimed earlier this week, in their closing arguments, that the responsibility of the accused for the crimes committed against detained Serbs and Albanians accused of collaboration with Serbs had been proven beyond reasonable doubt. They asked for 20 years in prison for Limaj, as the KLA commander in the area. For Haradin Bala, camp guard accused of personally taking part in the beating, torture and murder of detainees, they asked for 18 years in prison. For Isak Musliu, who commanded the KLA unit stationed in Lapusnik and who, as the prosecutor alleges, was the camp commander, they asked for 15 years.
The Chamber, with Australian judge Kevin Parker presiding, announced it would deliver its "judgment" in the "foreseeable future".