Home
NO TORTURE IN PRISONS – PEOPLE JUST FELL
In Danica Marinkovic's re-direct, Slobodan Milosevic contested the prosecutor's arguments about torture in prisons and police stations in Kosovo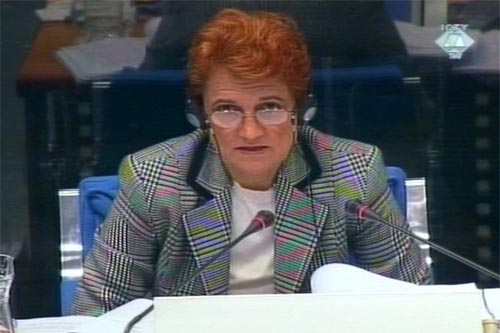 Danica Marinkovic, witness in the Milosevic case
Torture is prohibited in the prisons in Serbia and therefore - there wasn't any, Judge Danica Marinkovic stated today during her re-direct examination conducted by Slobodan Milosevic. This is how the accused and his defense witness countered the claims made during the cross examination by the prosecutor, who quoted the case of Isak Aliu - one of the persons accused in the "Illegal MUP" case in 1994-95. A medical commission that examined him after a series of complaints and requests filed by his defense counsel determined that he had hematomas, bruises, lacerations and other injuries caused, as stated, by "a blunt mechanical object."
Judge Marinkovic said today that such injuries could have been inflicted in "fighting among the prisoners" which "does happen in prisons" and they could even be the result of "a fall in prison, when the prisoner might have struck a hard object." When asked by Judge Kwon how she had been able to determine that the prisoner had "simply fell down", the witness replied that it was just a supposition, based on her experience as an investigative judge in Kosovo.
The prosecutor put it yesterday that in late 1994 Judge Marinkovic "deliberately delayed" issuing an order for the medical examination of Isak Aliu, waiting for "the marks of violence to fade". Today, Judge Robinson asked how long the procedure from issuing an order to the examination took in such cases. Judge Marinkovic replied that "it could take a long time… since the order has to go through the court and prison administration and then an appointment must be made in the medical care institution for the examination of the prisoner and his transportation must be organized." In the case of Isak Aliu, the prosecutor claims, this procedure took more than a month.
Just as there was not torture in prisons, there was no violence against people interrogated in police stations in Kosovo, according to Judge Marinkovic. The prosecutor presented statements by three Kosovo Albanians who claim that after the events in Racak in January 1999 they were arrested, beaten with baseball bats, tortured with electrical shocks and forced to signs statements shown in court by Judge Marinkovic as evidence of KLA activities in Racak.
Answering to Milosevic's questions, Judge Marinkovic said that she "had never seen anyone play baseball in Kosovo" and that she had never heard of police using electrical shocks to force people to confess or to force suspects to sign statements.
After Danica Marinkovic, Milosevic called Slavisa Dobricanin, professor of forensic medicine, who will also be talking about the events in the village of Racak on 15 January 1999.