Home
DOBRICANIN VS. RANTA
According to the leader of the EU forensic team, the victims from Racak were "unarmed civilians". However, former director of the Institute for Forensic Medicine in Pristina concluded on the basis of the "several layers of clothes they wore" and the "gunshot residue test" that those were in fact members of the "KLA territorial defense" who had died with weapons in their hands, in combat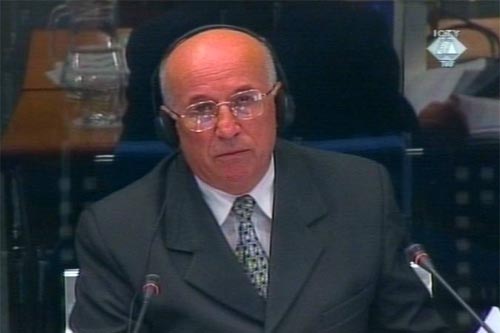 Slavisa Dobricanin, witness in the Milosevic trial
Through the testimony of Professor Slavisa Dobricanin, former director of the Institute for Forensic Medicine in Pristina, Slobodan Milosevic is trying to contest Dr. Helena Ranta's opinion about the circumstances in which 40 Albanian civilians died in the village of Racak on 15 January 1999. She was the leader of the EU forensic team investigating the Racak incident and she testified about those circumstances as a witness of the court in March 2003.
On that occasion, Dr. Ranta stated that the autopsy of the Racak victims, in which Finnish pathologists were involved, showed that "there was nothing to indicate that those people were anything but unarmed civilians".
When the judges asked him the same question today, Dobricanin gave a different answer. According to him, those were not "unarmed civilians" but members of the "KLA territorial defense", killed in a clash with the police. Dobricanin claims that this is proven by the "several layers of clothes they wore": two or three jackets, sweaters, shirts or trousers. The professor continued to say that the outer layers were black or dark navy blue or brown. According to him, those were the "colors worn by the territorial defense and the police of the KLA." Finally, the gunshot residue tests found traces of nitrates on the hands of 37 of the 40 victims in Racak, which proves that they had discharged firearms before death.
Dr. Ranta and some other forensic experts testifying during the prosecution case challenged the validity of gunshot residue tests, noting that they were rejected almost fifty years ago because of their unreliability. Professor Dobricanin said, however, that they were still in use in many countries, particularly poorer ones, like Serbia, which cannot buy modern forensic equipment.
Dobricanin described the report of the EU forensic team about the events in Racak as "Mrs. Ranta's personal opinion". As he said, "she did not take part in the work of the team" and she "is not competent" since she is merely a forensic dentist, not a forensic pathologist.
Although Professor Dobricanin was presented as a "fact witness", his testimony often veered to "expert testimony": according to the Tribunal Rules, a written expert report must be filed prior to any such testimony. This led to frequent objections by the prosecutor. The judges also reprimanded Milosevic several times because of his "messy" and "sloppy" presentation of evidence.
Professor Dobricanin's testimony will continue on Tuesday.