Home
"SAFE EXPULSION"
Forcible transfer of the non-Serb population from the B-H municipalities declared as Serb territories was coordinated by Crisis staffs controlled by the presidency of the Serbian Republic of BH, claims prosecution expert at the trial of Momcilo Krajisnik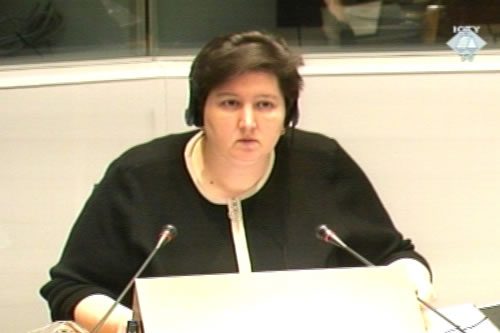 Dorothea Hanson, witness in the Krajisnik case
Prosecution expert Dorothea Hanson tries to prove the existence of a recognizable pattern in the way in which power was taken in a number of BH municipalities in 1992. To that purpose she tendered a series of documents, video and audio records, interviews and intercepts of telephone conversations of participants in the events covered by the indictment against, Momcilo Krajisnik, former speaker of the Bosnian Serb Assembly.
In late 1991, the municipal bodies of the Serbian Democratic Party (SDS) transformed into municipal authorities, mostly by establishing so-called crisis staffs. The "police and military authorities were then subordinated to them", the witness said. Although the relationship between the newly-established civilian authorities and the military varied from one municipality to another, the crisis staffs as a rule dealt with all military matters, until the Republika Srpska Army was established.
The RSA gradually "gained more independence", but crisis staffs retained their key role in providing logistic support to the military and in controlling the police. The witness showed document pertaining to the chain of command in several municipalities such as Kljuc, Kotor Varos, Trnovo, Ilidza. In those documents she highlighted the details pointing to the links between crisis staffs and the accused Momcilo Krajisnik.
Reports from municipalities were submitted to Krajisnik and the crisis staffs asked him to intervene, says Hanson. In addition to that, Krajisnik heard the speeches made by deputies in the Assembly where he was the speaker. There he could have learned about the events in the municipalities of the self-proclaimed Serbian Republic of Bosnia and Herzegovina.
One of those events was the "transfer" of Muslims and other non-Serbs from the municipalities under Serb control. The transfer was coordinated by crisis staffs, as the prosecution expert alleges. The decisions passed by the crisis staffs of Sanski Most, Prnjavor, Bosanska Krupa and several other municipalities used by Hanson in her report clearly show the intent to "assist [the non-Serb population] to leave the territories under Serb control."
By firing non-Serbs, excluding them from public life and removing them from all positions of power, it was in fact suggested to them to "move out voluntarily" and to sign a statement that they left all their property to the municipality. The decision to this effect passed by the Sanski Most crisis staff on 2 July 1992 specified the "criteria" for the "voluntary departure" and was tendered into evidence.
When asked by prosecutor Thomas Hannis whether that meant that the Serb authorities wanted "to help the non-Serb population to leave their municipalities safely", Hanson replied that it was indeed the case, but stating that there were no data to indicate that Muslims and Croats were "transferred to other Serb-controlled territories; they were transferred only to areas not under Serb control."
Dorothea Hanson's testimony will continue next week with the cross examination by Momcilo Krajisnik's defense.