Home
KRAJISNIK'S CONTACTS
Prosecutor presents documents and intercepts about direct contacts of the accused Momcilo Krajisnik with the crisis staffs and military commissions on the ground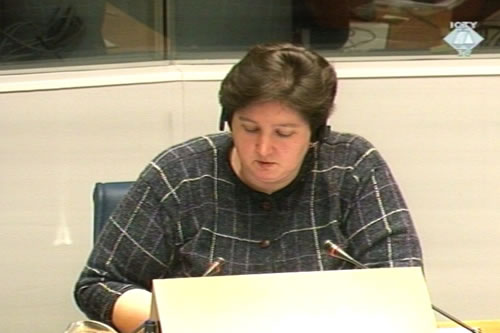 Dorothea Hanson, witness in the Krajisnik case
A series of exhibits "prove direct contacts of Momcilo Krajisnik with the crisis staffs and military commissions" in BH municipalities that were declared part of the Serbian Republic of BH in 1992, claims prosecution expert Dorothea Hanson.
On the second day of her testimony at the trial of the former speaker of the Bosnian Serb Assembly Momcilo Krajisnik, she presented to the Trial Chamber a series of statements, deputies' speeches in the Assembly and telephone intercepts, showing that Krajisnik was in contact with the local SDS representatives, that he was asked to intervene in some cases and that he received reports from municipal officials.
The prosecutor is trying to prove that it was Krajisnik who appointed the so-called war commissioners who were in charge of helping the implementation of the "plan" on the ground. Witness Hanson read out a statement made by Krajisnik at the session of the Bosnian Serb Assembly in 1992: "The commissioners are tasked with going around the country, wherever the government is not functioning, and trying to solve the problems and set up authorities… In my experience, this functions very well."
As the documents shown in court today indicate, Krajisnik was able to learn about the expulsion of Bosniaks, destruction of towns and "cleansing operations" from speeches made by deputies at the Assembly sessions.
The territories declared as "Serbian" were taken by military actions, but, as the prosecutor argues, the crisis staffs set up by Krajisnik's party, the SDS, had an important role coordinating the efforts. According to the documents presented by Hanson, depending on the specific situation in each of the municipalities, crisis staffs would cooperate with the JNA, with Bosnian Serb Territorial Defense units, and with several types of paramilitary forces, including Arkan's Serb Volunteers' Guard and Mauzer's Serb People's Guard.
A particularly important role of the crisis staffs was "to fill the void" created in May 1992, after the JNA was disbanded and when the Republika Srpska Army "needed some time to become a viable force", Hanson claims.
Dorothea Hanson's examination in chief will last until Friday and next week she will be cross-examined by Krajisnik's defense counsel.