Home
ASSEMBLY SPEAKER ACTED TO CALM THE SITUATION
Momcilo Krajisnik's defense challenged the claims of the prosecution expert witness about the links between the former Assembly speaker and the crisis staffs in the "Serbian municipalities" in BH in late 1991 and early 1992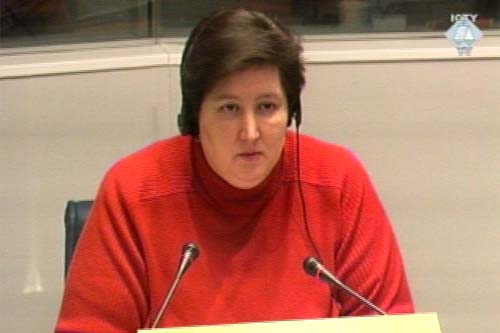 Dorothea Hanson, witness in the Krajisnik case
Momcilo Krajisnik's defense counsel devoted most of the cross-examination of prosecution expert witness Dorothea Hanson to challenging her claims about the links between the former Bosnian Serb Assembly speaker and the establishment and operation of the crisis staffs in several dozen BH municipalities in late 1991 and early 1992. Hanson has been testifying at Krajisnik's trial since last week.
According to her expert report, the communication went through the war commissioners appointed by Krajisnik in the municipalities where the instruction of the Bosnian Serb Presidency of 19 December 1991 was applied. This instruction was to "organize the Serb people in emergency situations" which involved the establishment of crisis staffs manned by SDS members. These staffs were later transformed into municipal authorities.
The defense tried to present Krajisnik's contacts with the war commissioners and crisis staff presidents as "private and friendly", invoking Krajisnik's "ability to calm down people" upset by dramatic events at the start of the war in BH.
Last week witness Hanson presented an intercept in which Jovan Tintor, president of the crisis staff in the Sarajevo municipality of Vogosca, informs Krajisnik about the situation in the municipality, expressing his fear that "up there something will blow up". Defense counsel Nicholas Stewart interpreted it as a private conversation between close friends. "Does this not sound like a person simply talking to a friend who is able to calm you down?" Stewart asked Dorothea Hanson. She, however, maintained that this "was more than an ordinary conversation between friends."
Krajisnik received regular calls from the crisis staffs and reports about the situation in the municipalities, Hanson repeated, which means that he had information about all the regions, even those he was unable to visit.
Hanson added that it had taken her six months to complete the expert report, that she had spent half of the time studying exclusively documents related to the crisis staffs in the municipalities which had been declared "Serb" in 1991 and 1992 and which became part of the then Serbian Republic of BH.
At the end of the seventh day of Dorothea Hanson's testimony, the judges indicated that they might be putting some questions to the prosecution expert witness tomorrow, before the prosecution calls its next witness.