Home
KARADJORDJE AND THE OTTOMANS
In his testimony today at the trial of Momcilo Krajisnik, former Republika Srpska war commissioner says he tried to understand why the crimes were committed on the ground. One of the explanations is that some Muslim politicians identified themselves with the Ottoman rule, and that Serbs might have been motivated by Karadjordje's views from the beginning of the 19th century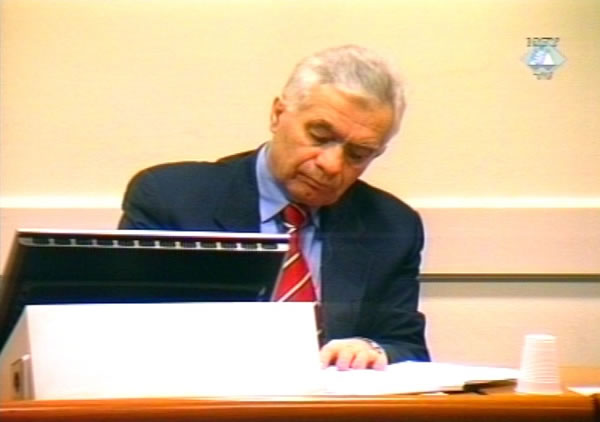 Momcilo Krajisnik in the courtroom
"War crimes, ethnic cleansing and in some cases genocide undeniably did happen… but as far as I know, there was no plan by the political leadership of Republika Srpska or Serbia to carry out ethnic cleansing in the areas controlled by the Bosnian Serbs," said witness Dragan Djokanovic today. In 1992, he was appointed by Radovan Karadzic as the Republika war commissioner for the establishment of the municipal governments.
Djokanovic was called to testify at the trial of Momcilo Krajisnik, former speaker of the Bosnian Serb Assembly, by the prosecution. He confirmed his earlier statements given to OTP investigators that while he was working as the commissioner in Zvornik in mid-1992 he heard about serious war crimes and reported back to Karadzic and Krajisnik about that.
As he was cross-examined by Krajisnik's defense today, Djokanovic added that he had relayed to them "general information about the situation on the ground," in other words, that he had not had any specific information about the nature of the crimes. He confirmed to defense counsel Chrissa Loucas that it was his impression that the crisis staffs in the municipalities had had "a high degree of autonomy" and had been "quite cut off from the leadership of the republic."
Djokanovic said that he had tried to understand why the crimes had been committed in the field, and found an explanation in the fear felt by the Serbs: "On the one hand, there was the euphoria among Muslims and Croats after the referendum on the independence of BH, and on the other, the Serbs' anger at having had Yugoslavia taken away from them and at having been cut off from Serbia and Montenegro, and this anger spread…" The witness also notes that the SDA seemed to be identifying with the Ottoman Turks and that this might have motivated the Serbs to follow Karadjordje's views from the time of the 1st Serbian Uprising – that every Serb must kill the subaša [village leader] if he wanted to defend himself.
The witness stresses, however, that in his opinion all those who committed the crimes and those who failed to react to them must face justice.
The questioning of this witness will continue tomorrow.