Home
JUDGE EL MAHDI TO WITHDRAW FROM THE KRAJISNIK CASE
Judge El Mahdi said at the end of the hearing today that he would be withdrawing from the Momcilo Krajisnik case next January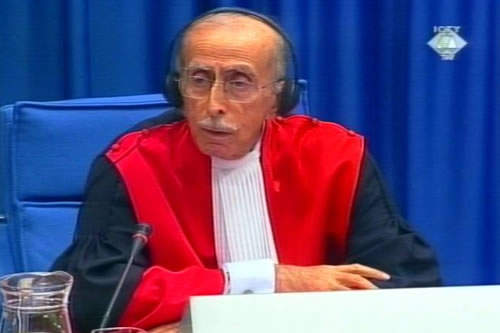 Amin El Mahdi, judge at the Tribunal
Egyptian judge Amin El Mahdi stated at the end of the hearing this afternoon in the trial of Momcilo Krajisnik that he would withdraw from the Trial Chamber on 14 January 2005. As the reason for his withdrawal Judge El Mahdi stated that he had not been re-elected as a judge of the International Criminal Tribunal at the early elections held last month in the UN General Assembly. Since his term of office runs out in November 2005, while it is expected that the trial of Momcilo Krajisnik will not end or the judgment be delivered by that time, Judge El Mahdi considers it his professional duty to withdraw before this deadline, as he said.
The presiding judge of the Trial Chamber, Judge Alphonsus Orie addressed the parties after Judge El Mahdi's announcement, explaining the procedure that applies in such event. The Trial chamber can opt for hearing again all the evidence that has been presented, this time in the presence of the new judge who would replace Judge El Mahdi, which practically means that the case is back to square one. Alternatively, it can continue to hear new evidence with the new judge, in which case he must first get completely acquainted with the case and all the evidence presented so far. The accused must consent to this option, but according to the Tribunal Rules, there is a possibility for the case to continue with a new judge even if the accused refuses to give his consent.
The Chamber had decided that the trial would not continue until all the decisions pertaining to those issues had been made. Judge Orie said that if the prosecution case is to be presented from the beginning, the proceedings might continue in the third or fourth week of the next year. If the trial is to continue without re-introducing all the evidence, the hearings could not resume before the sixth week of 2005, the presiding judge explained.
Addressing the accused and his defense counsel, Judge Orie asked them to state whether they agree to the continuation of the trial with a new judge by next Tuesday. Krajisnik's defense counsel and the accused himself took the opportunity to thank Judge El Mahdi for his "highly professional and committed efforts in this case."
"Please convey my gratitude to him," Krajisnik said, adding that he had listened with great pleasure to "his questions asked so attentively" in the course of the trial. He also asked for a permission to give a "small gift" to Judge El Mahdi, apologizing in advance if "this was not customary." Judge Orie replied with a "firm no", but promised to convey to the Egyptian judge his personal impression that the words of gratitude and best wishes were expressed "with a great deal of sincerity and from the heart."