Home
KRAJISNIK DOES NOT CONSENT TO CONTINUATION OF TRIAL WITH NEW JUDGE
Former Bosnian Serb political leader – charged with genocide and other war crimes in BH in 1991 and 1992 – demands that his trial go back to square one after the resignation of Judge El Mahdi. It appears that the Appeals Chamber will have the final say in the matter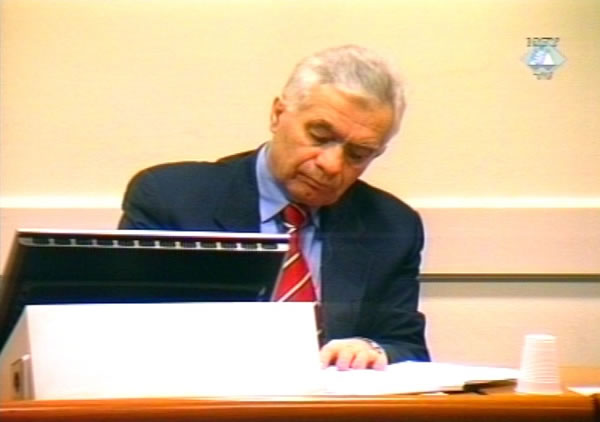 Momcilo Krajisnik in the courtroom
Momcilo Krajisnik has refused to give his consent for the continuation of his trial with a new judge and asks instead that the trial go back to the beginning – defense counsel for the accused, Australian lawyer Nicholas Stewart stated tonight. The oral hearing to discuss this issue will be held tomorrow or the day after at the latest, he said.
The portion of Krajisnik's trial held so far is in question following the resignation of Egyptian judge Amin El Mahdi, who announced late last week that he would definitely withdraw from the Tribunal on 15 January 2005. Krajisnik's trial began in February 2004 and in the 24 working weeks the prosecution has already presented more than two thirds of its evidence. Before El Mahdi's resignation, it was anticipated that the prosecution case could finish next spring.
According to the Rules of Procedure, if one of the judges is unable to continue hearing a case that has already entered the trial stage, ICTY president may assign another judge to the case and "order either a rehearing or continuation of the proceedings from that point" but only "with the consent of the accused".
If the accused refuses to give his consent, the remaining two judges may decide to continue the trial with a new judge if, taking all circumstances into consideration, they "decide unanimously that doing so would serve the interests of justice." Both parties – prosecution and defense – can appeal against that decision directly and the Appeals Chamber rules on their appeal in a full bench – with all five judges.
If the Appeals Chamber supports the decision to continue the trial, ICTY president will assign a new judge who will be allowed to join the Trial Chamber only after he has confirmed that he has familiarized himself with the course of the trial up to that point.