Home
WITNESS REFUSES TO BELIEVE TAPES
As his cross-examination continues, Mitar Balevic refuses to be confounded by the prosecutor showing him TV broadcasts that give a somewhat picture of the events that Balevic testified about at the trial of Slobodan Milosevic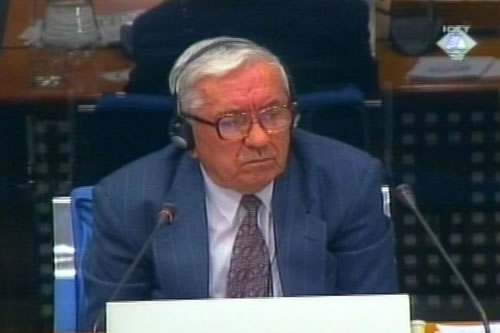 Mitar Balevic, defense witness for Milosevic
Nothing new emerged in the course of the cross-examination of Mitar Balevic and the re-direct by the accused Milosevic compared to what he had said during the three days of his examination-in-chief and iniitial cross examination on 25 and 26 January and 8 February. Former official of the League of Communists and Milosevic's SPS stuck by his interpretation of the events in Kosovo from April 1987 until the NATO intervention in 1999.
Video tapes shown by the prosecutor were of no help, although in them some of the prominent figures in these events – from the late president of Serbia Ivan Stambolic to the political leader of the Kosovo Albanians Azem Vllasi to the leader of the Kosovo rally organizers Miroslav Solevic – presented versions of events that were contrary to Baleivc's interpretation. Likewise, TV footage from April 1999 showing thousands of civilians at the Pristina train station waiting for trains to take them into exile and tens of thousands of refugees at the border with Macedonia did not shake Balevic's "firm belief" that this was an "orchestrated exodus" of the Kosovo Albanians and that "Serbs are the only victims of ethnic cleansing".
As the next witness (Vlatko Jovanovic, former foreign minister of Serbia and permanent representative of the FRY in the UN) was about to take the stand, Milosevic said that he was not feeling well, that he had a fever, and asked for Jovanovic's testimony to be postponed until Monday, 14 February.
The judges will decide whether the trial will continue tomorrow as planned or whether it will be adjourned until Monday after they receive a medical report on the health of the accused from the UN Detention Unit.