Home
MILOSEVIC ON SICK LEAVE
For the first time since the beginning of the defense case, Milosevic is absent from the courtroom for health reasons. It is up to the judges to decide whether they will wait for the accused to get well or whether they will, in accordance with the decision of the Appeals Chamber, order the trial to go ahead with the assigned counsel assuming Milosevic's role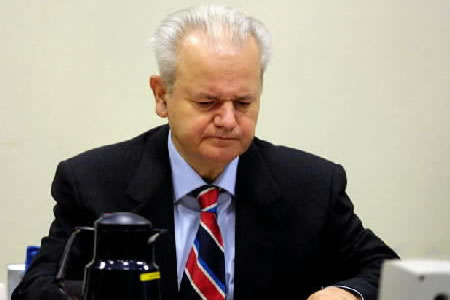 Slobodan Milosevic in the courtroom
Five full months – from the beginning of the defense case on 31 August 2004 until today – Slobodan Milosevic did not experience health problems that would have prevented him from attending the trial. This morning, however, he did not appear in the courtroom because of the flu, as Judge Robinson informed those present there. The Chamber will decide when to continue with the trial after it receives the report from the Detention Unit doctor about the health of the accused and the prognosis of the possible length of his illness.
If the accused is to be absent from the courtroom for a longer period, the judges might activate the mechanism available to them under the decision of the Appeals Chamber of 1 November 2004. It restored Milosevic's right to conduct his own defense, but at the same time confirmed the assignment of defense counsel whose presence in the courtroom will make it possible, according to the Appeals Chamber, to continue the trial even if the accused is temporarily incapacitated and cannot participate. It is up to the Trial Chamber to decide when the roles in the courtroom are to be switched.
Of the 150 working days allotted to his defense case, Milosevic has so far used up twenty-nine. Eighteen defense witnesses were examined in that period, five by assigned counsel Steve Kay and thirteen by Milosevic.