Home
CAN DOCUMENTS FROM BANJA LUKA BE TRUSTED?
Naser Oric's defense challenges the authenticity and reliability of documents obtained by the OTP from a "problematic source" – the Republika Srpska authorities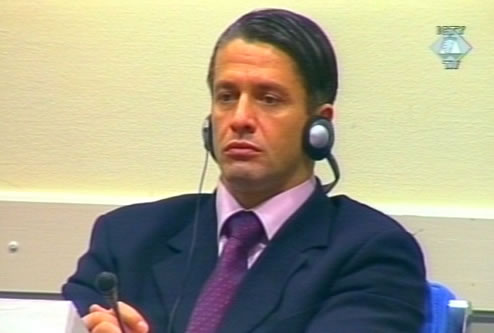 Naser Oric during the trial
If the OTP has taken the view that "the Republika Srpska authorities cannot be relied on in any serious matter", how is it possible then that in its case against Naser Oric the prosecution is extensively using documents obtained from the authorities in Banja Luka?
This is the question Oric's British defense counsel John Jones asked today as the trial of the former BH Army commander in the Srebrenica enclave continued. He quoted several statements made by OTP representatives in 2002 in which they were "scandalized" by the first "Srebrenica report" by the RS Government in which it denied that the crimes committed in July 1995 ever happened. He quoted a motion filed by the prosecution in November 2002 in opposition of the provisional release of Vidoje Blagojevic, in which guarantees given by the RS Government were described as worthless and in which the conclusion is made that the Banja Luka authorities "continue to insist on myths and lies" and that "they cannot be relied on in any serious matter".
According to the defense, the trial of Naser Oric – accused with the destruction and plunder of Serb villages and torture and murder of detained civilians in late 1992 and the first half of 1993 - is too serious matter to be based on the evidence obtained from "problematic sources".
Noting that the RS authorities are not a "reliable source of documents", the defense quoted the fact that the High Representative Paddy Ashdown had at one point removed from office Dejan Miletic, former head of the RS Bureau for Cooperation with the Tribunal, because he had "taken active part in the efforts to conceal documents", as the explanation went. Mr. Miletic himself confirmed in an interview for the Bosnian bureau of the Deutsche Welle, quoted today by the defense counsel, that the RS authorities had "assisted in the investigation against Naser Oric" and provided "certain documents" to the OTP.
Quoting from statements made by several potential witnesses who denied in the interviews conducted by the OTP investigators that they had ever written or signed the documents that had been showed to them bearing their names, the defense suggested that that after the fall of Srebrenica in July 1995, the Serb forces had found official BH Army stamps they then used to forge those documents and submitted them to the OTP.
The prosecution will respond to the allegations made by the defense tomorrow, as the trial continues.