Home
AN INCIDENT IN COURTROOM
Provoked by the testimony of Nikola Popovic whom he considers responsible for the killing of two thousand people in Kravica in July 1995, accused Naser Oric shouted that he did not want "a criminal to testify" against him. Presiding Judge Agius threatened that he would have Oric handcuffed and removed from the courtroom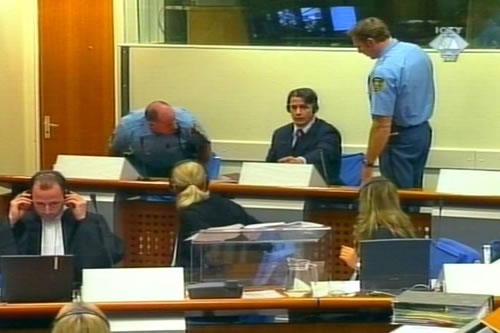 Naser Oric in the courtroom
"I will be forced to have you handcuffed," Carmel Agius, Presiding Judge of the chamber hearing the case of Naser Oric, said after the accused, provoked by the testimony of Nikola Popovic, stood up without permission and said in a loud voice that he did not "want a criminal to testify here."
Visibly shaken, Oric stood up in the dock again and shouted that the witness had "killed two thousand of his people" in the warehouse of the farming co-op in Kravica in July 1995. During the cross-examination, John Jones, defense counsel of the accused Oric, quoted from a "Statement of Facts and Plea Agreement" made by Momir Nikolic, former security chief in the VRS Bratunac Brigade, where it is stated that Nikola Popovic had taken part in the executions of Bosniaks captured on 13 July 1995 after the fall of Srebrenica in Kravica.
The witness denied his participation in the crimes, and the prosecutor stated that Popovic had not been offered immunity and that he was not considered as a suspect in those crimes by the Tribunal.
In the course of his testimony, Nikola Popovic spoke about an attack of the Bosniak forces on the village of Kravica and other Serb hamlets on the Orthodox Christmas Day, 7 January 1993. As he said, his 82-year-old grandfather was killed in the attack, while his father Kostadin was captured and taken to the prison in Srebrenica. The witness also spoke about the exhumation of his father's body who had died in prison on 6 February 1993 as a consequence of daily beatings.
Defense counsel Vasvija Vidovic and John Jones apologized to the court on behalf of their client, citing the fact that Oric had lost many relatives and friends in the massacre after the fall of the Srebrenica enclave. Presiding Judge Agius replied that he would not tolerate such incidents in the future and that he would remove the accused from the courtroom if necessary.