Home
WOMEN AMONG THE "VISITORS" TO LAPUSNIK CAMP
Protected witness identified accused Haradin Bala as the "man who beat him" in Lapusnik and who allowed "visitors to the camp", including women, to abuse the prisoners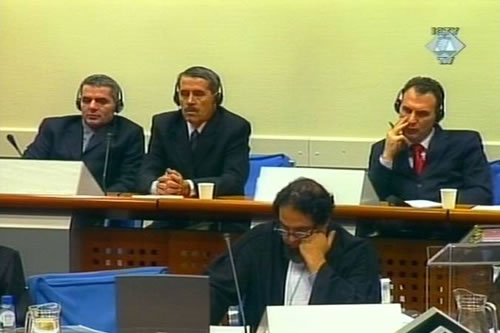 Isak Musliu, Hajradin Bala and Fatmir Limaj in the courtroom
The trial of KLA members Fatmir Limaj, Isak Musliu and Haradin Bala continued today with the testimony of a protected witness – a Kosovar Albanian who was detained in the Lapusnik camp for a month. A substantial portion of his testimony was heard in private session.
In the part of his testimony open to public, the witness said that in the summer of 1998 he was detained in the stable at the farm in Lapusnik, chained to a cattle feeder with several other detainees. He was beaten several times. The first time he was beaten by a camp guard called Shala who used a wooden stick and beat the witness "until he fainted". The prosecution claims that Shala is Haradin Bala's nickname. The witness claims that Shala would also open the doors to "other people who entered the stable and abused the detainees." On one occasion, the witness claims, he was beaten by two women who were among the camp "visitors."
The witness was able to recognize the farm at Lapusnik and the stable in which he was detained on photographs shown to him by the prosecutor. He said that he had realized where he was only after he had left the camp, and their blindfolds had been removed. He said that he had been in Lapusnik several times before that event and that he knew "every nook and cranny there."
During his detention, the witness heard on several occasions about the man nicknamed Cerciz, but as he says, he "did not know that person." Cerciz was the nom de guerre of the accused Isak Musliu.
He described Shala as a man of medium height, dark-complexioned, aged about 56, who "probably" wore a moustache. He saw Shala last when he, together with the man by the name of Murtezi, took the detainees out of the stable in Lapusnik and escorted them to a meadow on the Berisha mountain. As alleged by the indictment, twelve detainees from Lapusnik remained on the meadow and were shot to death there.
The witness was in a group of nine prisoners who were taken to Kremirovci where "they were held until the morning," and were then released.
At the request of the prosecutor, the witness identified the accused Haradin Bala as the man nicknamed Shala in the courtroom. He did not deny having seen the accused on TV but maintained that he had first seen the man in Lapusnik.
Haradin Bala's American defense counsel Gregor Guy-Smith insisted that the witness was able to recognize the accused because of trial footage broadcast on TV. When he suggested that he "had seen Bala on TV", the witness replied, "No, I saw him when he beat me."
At the end of this session, Presiding Judge Kevin Parker announced that the trial of Fatmir Limaj, Isak Musliu and Haradin Bala would continue on 13 January 2005.