Home
AN ARMY WITHOUT A COMMANDER
After the Chamber rejected the application of the prosecutor to treat former KLA Chief of Staff General Sulejman Selimi as a "non-cooperative witness", Selimi continued his testimony in the same vein, denying all his previous statements in which he had spoken of the accused Fatmir Limaj as "Commander Celiku", KLA commander in the Pastrik region in the spring and summer of 1998. The Celiku units – the witness now claims - "did not have a commander."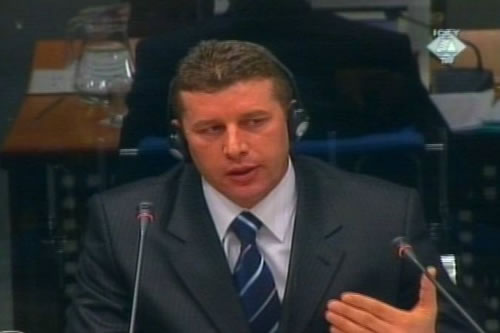 Sulejman Selimi, unwilling witness for the prosecution in the trial of the former KLA members
The Trial Chamber rejected today an application to treat Major General Sulejman Selimi as a "non-cooperative witness" which would have made it possible for the prosecution to pose leading questions and to confront him with the discrepancies between his previous statements and his current testimony at the trial of the three former KLA members charged with the crimes in the Lapusnik camp, near Glogova in Kosovo. Although they "do not consider the prosecutor's application to be unmerited", the judges are nevertheless not convinced that at this stage of the examination it would be justified to treat Selimi as a witness who is not telling the truth or who is persistently trying to avoid answering questions.
Following this announcement, prosecutor Julian Nicholls continued to examine his unwilling witness, who had come to The Hague after he had been served a subpoena. Selimi stuck by his testimony given yesterday that the "Celiku units" that had been active in the spring and summer of 1998 in the Pastrik operational zone had been "acting independently" and that they had "not had commanders." When asked by the prosecutor to clarify what he meant when he said in one of his previous statements that he did not know who – "apart from Fatmir" – was a commander in that area, Selimi explained today that he meant that he had "known Limaj, not that Limaj was a commander."
The indictment alleges that in the spring and summer of 1998 Fatmir Limaj a/k/a Celiku was the KLA commander in the Pastrik area, which included the camp in Lapusnik and the Berisa mountain, where, according to the prosecution, about a dozen Albanian prisoners had been killed. Although he knew Limaj him from that time as "Commander Celiku", Selimi denies that tye accused was the commander of the "Celiku units." He allows that Limaj could have been the commander of "Celiku unit 1" and adds that there were "other commanders nicknamed Celiku"… but that he did not know them.
Major General Sulejman Selimi, former KLA Chief of Staff, now Deputy Commander of the Kosovo Protection Force, took the opportunity presented to him by a prosecutor's question to express his respect for the accused Fatmir Limaj, Isak Musliu and Haradin Bala, and "all those who fought and shed their blood for the KLA."
As today's hearing drew to a close, the defense started the cross-examination of the unwilling prosecution witness turned loyal defense witness.