Home
WITNESSES TO ABUSE IN LAPUSNIK
The prosecutor supports the claim that the accused Limaj, Musliu and Bala were present or participated in the abuse of the detainees in the Lapusnik camp through testimony of two survivors: Vojko Bakrac and his son Ivan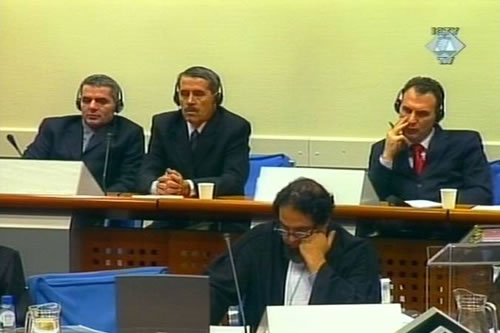 Isak Musliu, Hajradin Bala and Fatmir Limaj in the courtroom
Vojko Bakrac was born in Slovenia but he and his family lived in Zagreb. They moved to Belgrade in 1992 because they were under "pressure because of their Serb ethnicity". A year later they moved to Kosovo, to Djakovica. After five years, they decided to leave Djakovica too, "because of the increasingly frequent incidents between the Albanian and Serbian population." On 29 June 1998 Vojko Bakrac, his wife and his younger son Ivan boarded a bus for Belgrade in Djakovica. The route was to take them through Pristina.
They were stopped in the village of Crnoljevo near Suva Reka. Vojko and Ivan were taken off the bus by people in camouflage uniforms with KLA insignia. They were taken to a nearby school and then to the Lapusnik camp where they were detained for some ten days. At the trial of the men accused for the crimes in the camp – Fatmir Limaj, Isak Musliu and Haradin Bala – they testified about what they had gone through before they were finally handed over to the representatives of the International Red Cross in Pristina.
Bakrac described how his wife was forced to remain on the bus while he and his son had been taken off. Two other men, Stamen Genov and Djordje Cuk, were also taken off. All four were taken to a nearby school where, as the witnesses described, KLA soldiers beat and abused Cuk and especially Genov, once they discovered that the latter was a VJ member. "They stopped beating him only when he lost consciousness, when it seemed that they had killed him with the beating," Ivan Bakrac, who was only 18 at the time, testified.
The same night they were all transferred to Lapusnik. On photographs shown to them by the prosecutor they recognized the room where the mistreatment of Genov continued. Vojko Bakrac described how he met a man there whose nickname, as he was to learn later, was Sala – that is the nickname of the accused Haradin Bala. As he said, Genov was beaten by a dark-haired man with a beard and a mustache, who was wearing a camouflage uniform and was armed. He told Bakrac that he had studied physical education at a college and knew martial arts. In the opening statement, the prosecutor described the accused Isak Musliu nicknamed Cerciz in those terms.
Vojko and Ivan Bakrac described in their testimony that they had spent the next two or three days in the basement of a second building. They found nine other people there: three Albanians and six Serbs. Vojko Bakrac identified the latter as the Krstic brothers, an elderly gentleman and Zeljko whose last name he did not recall. He indicated on a drawing he had made himself how the detainees were placed in the small room with a concrete floor covered with straw, with a bucket in the corner which served as a toilet. The food, which looked like animal fodder, as Ivan Bakrac described it, was doled out once a day, but they were given cigarettes several times a day. Vojko and his son were not subjected to abuse and tried to help Genov who had been taken out of the basement several times to be beaten. One night, Genov asked the father and son "to strangle him because he could not take it anymore." "I couldn't do it, and neither could Ivan," Vojko Bakrac said.
The last five days they spent in a room in the main building, where they were transferred on the orders of "a young gentleman in a neat uniform with a small beard and an officer's satchel," as Vojko Bakrac described him. The manner in which other soldiers treated him led Bakrac to believe that he was a commander. As he spoke to him, he learned that he was a lawyer. The prosecution claims that it was the first accused, Fatmir Limaj, whose nom de guerre was Commandant Celiku.
Before leaving Lapusnik, Vojko and Ivan eye-witnessed another incident in which a group of 4-5 Albanians were beaten. They were told that these Albanians were traitors. Bakrac described how he had felt much easier when the soldier who appeared to be a "commander" had said that he and his son would be released, but that they would have to make a statement first – in writing and before a camera – saying that they had been treated fairly and that they had not been abused.
Vojko and Ivan Bakrac did that and were subsequently handed over to the representatives of the International Red Cross. They never saw Stamen Genov and the other detainees from the basement again. Their names are on the list of the 22 victims of the Lapusnik camp.
The defense tried to challenge the testimony of Vojko and Ivan Bakrac in their cross-examination by suggesting that the father and son had discussed their experiences in the Lapusnik camp often, thus making their statements identical – this would render them unreliable. "Vojko Bakrac said, "We never discussed that after our release," while his son explained that "this is something he does not like to discuss."