Home
MOTION TO ACQUIT GENERAL STRUGAR FILED
General Pavle Strugar's defense lawyers file a motion claiming that prosecutors failed to prove their client's responsibility for the shelling of Dubrovnik in 1991.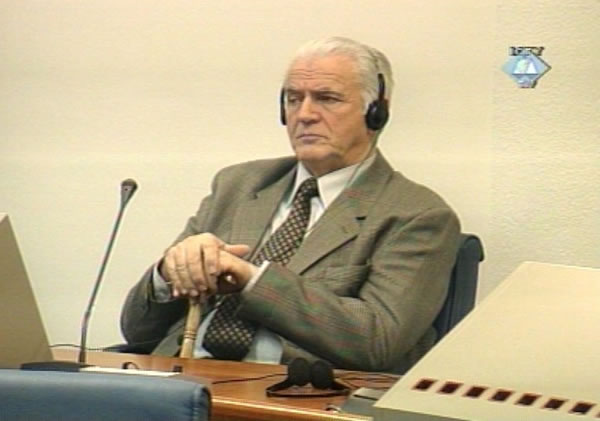 Pavle Strugar in the courtroom
The defense of General Pavle Strugar, accused of the shelling of Dubrovnik on 6 December 1991, claims that during its case, the prosecution failed to offer evidence of "any--let alone substantial--contributions" by their client to the crimes he is charged with. It requests the Trial Chamber acquit him on all six counts of the indictment.
In its motion filed with the Trial Chamber after the prosecution rested its case, General Strugar's lawyers, Goran Rodic and Vladimir Petrovic, claim that the prosecution has not presented "any evidence whatsoever" that the accused general issued any order pursuant to which the forces under his command carried out an "unlawful artillery attack" on the Old Town of Dubrovnik on 6 December 1991.
In the defense's view, there is no evidence that General Strugar aided and abetted the actual perpetrators of the crimes identified in the indictment. The actions of the accused, said his defense counsel, "did not have any decisive impact on the commission of the crimes." And they say it has not been proven that the accused "knew of the intentions of the perpetrators" or that he was "aware that by his actions he was aiding the direct perpetrators of the crimes."
The defense also claims that prosecutors failed to present evidence about the accused's command responsibility. They state that the units attached to the Second Operational Group, a task force commanded by General Strugar, remained subordinate to their leaders within the regular chain of command.
The defense motion states that it has not been proven that the accused is directly or indirectly responsible for the murder or cruel treatment of any person, or that he participated in the willful destruction of civilian buildings devoted to culture, religion and education, historical monuments and works of art. The defense claims that the parts of the Old Town protected by UNESCO as a world cultural heritage site "forfeited that protection because they were used for military purposes."
The defense further challenges the prosecution's evidence concerning the wounding of three people in the Old Town. It questions the cause and seriousness of the injuries suffered by Dubrovnik's inhabitants; their names--and the time when they were wounded--are listed in the indictment. The defense claims that prosecutors failed to prove the people were wounded on the day relevant to the indictment – 6 December 1991.
The prosecution has seven days to file its response to the defense motion. The Trial Chamber should rule on the motion to acquit before the beginning of the defense case, scheduled for 28 June.