Home
PROSECUTION RESTS IN THE TRIAL OF GENERAL STRUGAR
The prosecution rests its case in the trial for the shelling of Dubrovnik. The defense of General Pavle Strugar is set to begin its case on 28 June if judges decide the accused general is competent to stand trial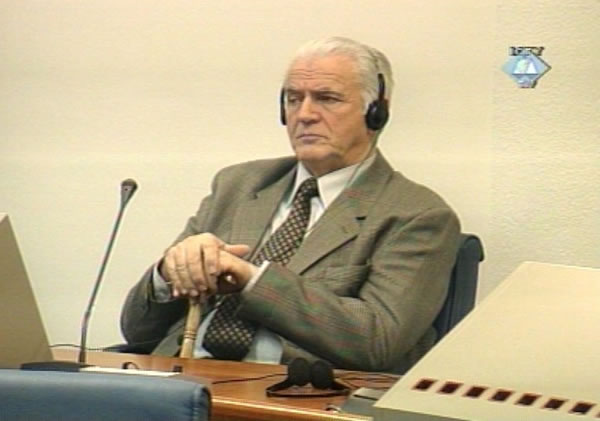 Pavle Strugar in the courtroom
This week the prosecution concluded its five-month case against General Pavle Strugar, former commander of the JNA 2nd Operational Group and commander of the Dubrovnik operation.
In trying to prove General Strugar's responsibility for the shelling of Dubrovnik on 6 December 1991, the prosecution called 29 witnesses in 74 working days. Most of them were inhabitants of the Old Town of Dubrovnik. There were also some experts who testified about the JNA command and control system, weapons and the damage caused to the Old Town, a world cultural heritage site. In the course of the trial, the Chamber admitted into evidence 210 prosecution exhibits and 97 defense exhibits pertaining exclusively to 6 December 1991, the day of the Old Town's most intense shelling during the three months of siege.
The initial Dubrovnik indictment, issued in March 2001, pertained to crimes committed during the entire period of the siege. Last August it was amended to include only the shelling of the Old Town on 6 December 1991.
After the prosecution rested, presiding judge Kevin Parker reminded the parties that the Chamber would soon deliver its decision on the competency of General Strugar to stand trial. This decision will determine the fate of the trial. If judges decide that because of bad health the accused general is not able to follow his trial, it will be discontinued and no judgment will be rendered. If they find otherwise, the trial will continue on 28 June, when General Strugar's defense is set to begin its case. The defense has announced it will not need more than four weeks for the presentation of evidence.
General Strugar's lawyers have also announced they will be filing a motion of no case to answer, as the Rules of Procedure and Evidence allow. They will ask for acquittals on those counts where the prosecution, in their estimate, failed to prove his responsibility.