Home
DUBROVNIK WAS NOT SHELLED "BY ACCIDENT"
The prosecution puts a military expert on the stand to prove that the damage to the Old Town of Dubrovnik inflicted on 6 December 1991 was not "collateral"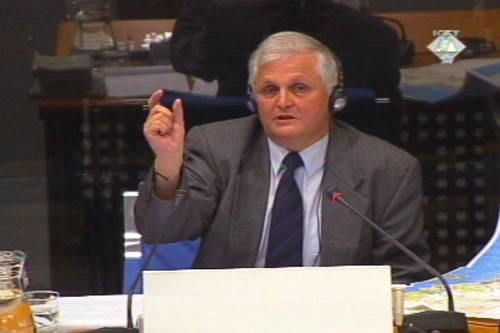 Jozef Poje, , witness at the Pavle Strugar trial
The JNA did not intend to take Dubrovnik because in December 1991, its units were on the defensive, claims Slovene Army Colonel Jozef Poje, called by the prosecution as an expert witness at the trial of General Pavle Strugar. In his report, he states--among other things--that in Dubrovnik, the JNA fired only on targets where fire had been opened on them, but he also claims that there were no such targets in the Old Town.
During its examination of the witness, the prosecution tried to show that the shelling of Dubrovnik was not the consequence of open fire from within Dubrovnik's walls, and that the damage caused on 6 December 1991 was not due to rounds going astray or random shots.
Taking into account the distance from JNA positions to the Old Town and the weapons from which fire was opened, Colonel Poje calculated the area around the target where the rounds could have caused damage. In no event, he claims, could JNA rounds fired at targets outside the Old Town have posed a threat to its walls. According to the expert witness, the Old Town could not be "collateral damage" resulting from the Croatian forces' response to JNA fire.
Although he does not explicitly state it in his report, the Slovene colonel intimates that the damage to the Old Town is the result of deliberate shelling, and that the buildings within the walls of Dubrovnik were targeted deliberately from JNA positions.
General Strugar's defense began cross-examination with an attempt to discredit the witness professionally. He is currently employed at the Military School Center of the Slovene Defense Ministry; until August 1991, he was a lieutenant colonel in the JNA. When asked by the defense why he did not get promoted above the rank of colonel, Jozef Poje explained that the Slovene Army was small and that consequently it did not have many officers with the highest ranks.
The prosecution announced its intention to call another military expert for the duration of the week. This will conclude its case. The continuation and further course of the trial will depend on the Trial Chamber's decision regarding the competency of General Strugar to stand trial. It is expected to be delivered before the beginning of the defense case.