Home
GENERAL STRUGAR'S "RESPONSIBILITY PROVEN"
In response to a defense motion calling for the acquittal of General Pavle Strugar, the prosecution claims it has proven "beyond reasonable doubt" the responsibility of the accused for the shelling of Dubrovnik in December 1991.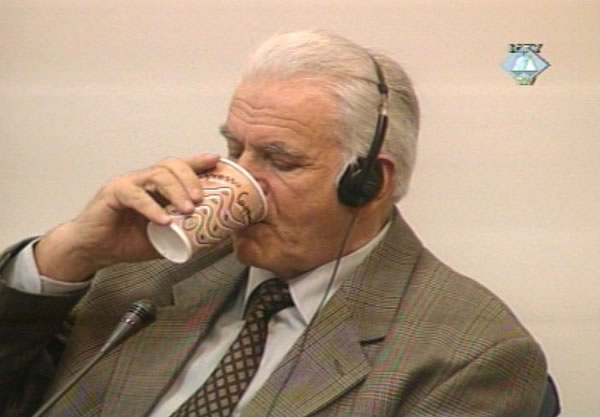 Pavle Strugar in the courtroom
The Trial Chamber has seen enough evidence over the responsibility of General Pavle Strugar for the shelling of Dubrovnik in December 1991 to find him guilty on all six counts of the indictment. So claims the prosecution in its response to a defense motion seeking the general's acquittal on the grounds that the prosecution "has failed to prove his guilt" during its case.
In its response to the defense motion, the prosecution analyzes in detail the testimony and documents it presented during its case, stating that General Strugar's guilt has been proven "beyond reasonable doubt." The accused was, the prosecution notes, in a position of superiority in relation to people responsible for the unlawful attack on Dubrovnik in December 1991. "It is quite unlikely," say prosecutors, "that a subordinate commander would carry out an arbitrary and deliberate attack, knowing that his superior was opposed to it." There is enough evidence, they claim, that after the attack, General Strugar "not only failed to punish the perpetrators, but put them up for decoration."
Responding to defense claims that the Old Town of Dubrovnik, protected by UNESCO as a world cultural heritage site, "forfeited that protection because it was used for military purposes," the prosecution stresses that there is no evidence indicating that the Old Town could have been a legitimate military target. "Even if we took into consideration the defense arguments that there were mortar positions manned by the Croatian forces within 100 meters of the Old Town walls," the consequences of the shelling of these positions "could definitely not be shells falling within the walls of the Old Town." Prosecutors say they proved that shells did indeed fall within the Old Town's walls on 6 December 1991.
Also in its response, the prosecution appended a list of 450 buildings damaged during the shelling of Dubrovnik's Old Town, referring to a report by the Dubrovnik Institute for the Protection of Monuments and to the testimony of witnesses who described damage to the buildings and the manner in which it was inflicted.
The Trial Chamber should render its decision on the motion seeking the acquittal of the accused before 28 June--the date when the defense case of General Pavle Strugar is set to begin.