Home
"JNA LEADERSHIP ORDERED THE ATTACK ON DUBROVNIK"
The defense of General Pavle Strugar opens with his counsel saying that the General "neither ordered nor was notified" about the shelling of Dubrovnik on 6 December 1991; the defense case is expected to take less than four weeks.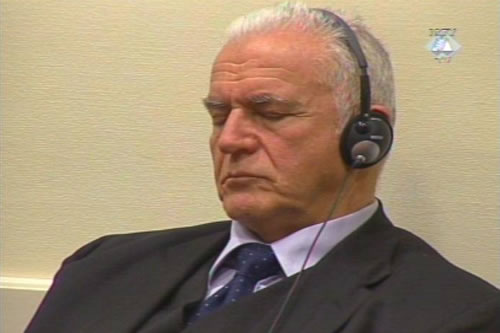 Pavle Strugar in the courtroom
The attack on Dubrovnik's Old Town on 6 December 1991 was ordered by the JNA "military leadership" and Vice admiral Miodrag Jokic "did not put a stop to the attack," claim lawyers for General Pavle Strugar, former commander of the JNA 2nd Operational Group and the commander of the Dubrovnik operation. Counsel Goran Rodic said in his opening statement that the defense will try to "persuade the judges that the accused general is not responsible on any of the six counts in the indictment."
The defense claims that General Strugar was "totally excluded" from the communication between the JNA leadership and Admiral Jokic. According to his lawyer, the attack was "an action planned in advance, with the knowledge and approval" of the 9th Naval Sector Command, i.e., of Admiral Jokic. Admiral Jokic was charged with the same crime as General Strugar, but he pleaded guilty and was sentenced to seven years in prison.
In the month ahead the defense will try to prove that the 2nd Operational Group Command and General Strugar "had no knowledge of the actions carried out by the 3rd Battalion on the Srdj hill on 6 December 1991." According to the indictment and prosecution witnesses, the 3rd Battalion of the JNA Trebinje Brigade opened artillery fire on the Old Town of Dubrovnik at dawn on 6 December 1991.
The defense claims that the objective of the JNA 2nd Operational Group in Dubrovnik was "to demilitarize the city," and when "Croatia's civilian and military authorities refused to accept it," the new objective became "to block the city from the sea and land." Rodic said, "At no time was the objective to take the city or to cause any damage to civilian and protected buildings."
He also said the defense would prove that Croatia's paramilitary and regular forces "misused the Old Town," using the positions in the immediate vicinity of the city walls to attack JNA units around Dubrovnik. "These provocations and attacks were intense, an everyday occurrence," the defense claims, resulting in substantial losses in JNA ranks.
After the opening statement delivered by Goran Rodic, the defense called its first witness, Slobodan Novakovic, who will testify about the evacuation of wounded and dead JNA troops in the Dubrovnik theatre.