Home
GENERAL STRUGAR COMPETENT TO STAND TRIAL
In the Tribunal's first decision on the issue of competency during its ten years of existence, a Trial Chamber dismisses a motion by 71-year old General Pavle Strugar to discontinue his trial because of physical and mental health problems.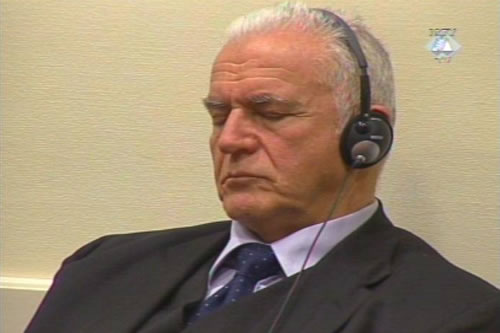 Pavle Strugar in the courtroom
General Pavle Strugar, accused of shelling Dubrovnik in December 1991, is competent to stand trial. So concluded the Trial Chamber presided over by Australian judge Kevin Parker, dismissing the defense's motion to discontinue the general's trial before any verdict is returned.
The decision states that judges consider the expert opinions of the prosecution experts--psychiatrists from Croatia and the United States—to be more reliable. Judges have not challenged the fact that General Strugar has been diagnosed with several disorders, but in their view, their nature is such that they do not substantially affect the mental and physical ability of the accused to follow and understand his trial, to make relevant judgments or to communicate with his defense counsel.
The Belgrade psychiatrists who testified as defense experts failed to persuade judges that the general's judgment and memory are impaired to such an extent that he would be unable to follow the trial or to testify in his defense, the judges explain in their decision.
Apart from the expert opinions, judges also relied on their own perceptions of the mental and physical state of the accused, since they "found themselves in a curious situation of being able to follow his behavior during the trial," which had already begun when the defense filed its motion.
"The accused addressed the Chamber on several occasions," the decision states, explaining that in each of these situations, "the comments of the accused seemed quite collected, relevant, well-founded and comprehensible." The judges also note that they have noticed that from time to time, the accused sits in the courtroom "with his eyes closed," but also that his "posture changes" when evidence "of special interest to him" is presented.
Now that the motion for the discontinuation of the trial has been dismissed, General Strugar's defense case is set to begin on 28 June.