Home
HOW PEOPLE DIED UNDER SIEGE IN DUBROVNIK
Testimony of pathologist who carried out autopsies on victims of the three-month long siege and shelling of Dubrovnik - a UNESCO-protected town - in late 1991. General Strugar's defence challenges "partial autopsy" reports.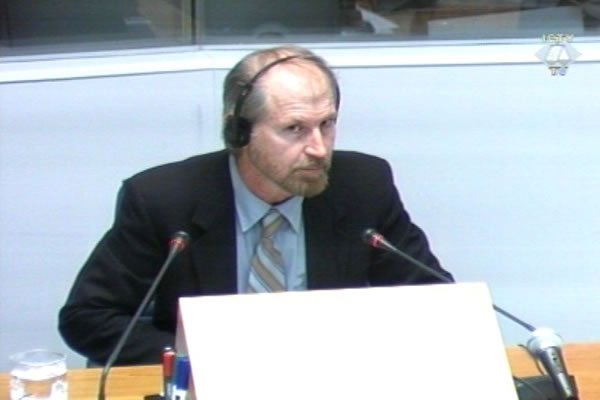 Djordje Ciganovic, witness at the Pavle Strugar trial
On 7 December 1991, Dubrovnik pathologist and specialist in forensic medicine Dr. Djordje Ciganovic carried out 19 autopsies and signed reports stating the cause of death in all of them: serious injuries caused by shrapnel from shells and other fragmentation rounds. All those who died, claims Dr. Ciganovic, were civilians.
The day before, on 6 December 1991, Dubrovnik was under its most intense shelling; then-commander of the JNA 2nd Operative Group, General Pavle Strugar, is being held responsible. The indictment charges him only with the destruction caused that day to the Old Town of Dubrovnik, a UNESCO protected site, and for the casualties within its stone ramparts.
Of the 19 dead that were autopsied by Dr. Ciganovic a day later, two people – Pavao Urban and Tonci Skocko – were hit by deadly shrapnel within the walls of the Old Town. In his testimony at the trial of General Strugar, Ciganovic described in detail the injuries they sustained on 6 December 1991. The witness said he was also in the Old Town, since he thought he would be safer in his grandfather's apartment. However, he soon fled to the basement because of the "high intensity of the shelling."
From September to December 1991, Dr. Ciganovic carried out more than 100 "partial autopsies" of civilians and soldiers who were killed. Most of them were carried out by performing an "external examination of the body." After examining external injuries, the pathologist from Dubrovnik explained he further examined the direction and depth of the "wound channel" and damage to internal organs in order to determine cause of death. Dr. Ciganovic explained that he carried out full autopsies only when he was unable to determine how a person died in any other way.
Defence counsel for General Strugar challenged the witness's reports of 7 December autopsies, claiming they had not been done according to the book and that it was impossible to determine the cause of death accurately by performing only an external examination of the body. Dr. Ciganovic countered the defense claims by saying that in the case of "substantial and extensive bodily injuries," it was possible to determine cause of death by external examination alone. He added that as an expert witness, he often testified in court without any clinical findings and medical records, basing his testimony solely on the therapy and medication a patient had used.
The pathologist from Dubrovnik confirmed to General Strugar's lawyers that the autopsy records did not specify the exact time of death, explaining that his entries for time of death were an "approximation" because "on the basis of the rigor mortis he was able to determine whether the victims had died a few days or a few hours before." As for the bodies he examined on 7 December, Dr. Ciganovic claims "it was clear they had died the day before."
During cross-examination, Ciganovic confirmed that on 6 December - during lulls in the shelling - he was able to hear small-arms fire being returned from the Old Town. He claims he did not see or hear fire from the mortar depicted in a photograph tendered by the defence. The photograph shows a civilian pushing a shell into a mortar tube in a town park. When the defence showed him photographs of a truck with a mortar and anti-aircraft gun, Dr. Ciganovic said he "heard that such trucks existed and that they were moving around the town," but that he personally had never seen them.