Home
LIMITING THE DAMAGE
By drawing attention to inconsistencies between two reports during the cross-examination of a UNESCO expert, defence counsel for General Pavle Strugar tries to limit the damage to Dubrovnik's Old Town caused by the shelling of 6 December 1991.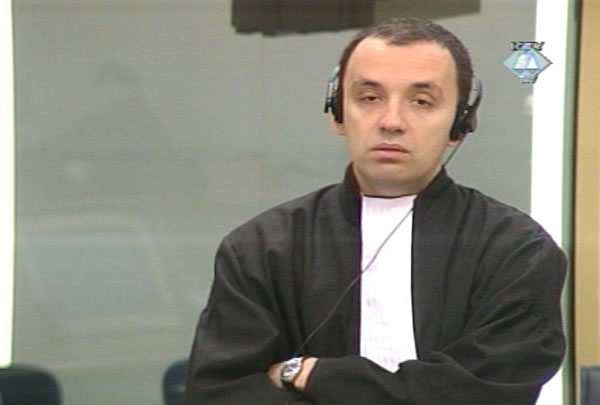 Vladimir Petrović, defence layer of Pavle Strugar
It is not very often that judges publicly commend defence lawyers or prosecutors for their work in the courtroom, but that is what happened in the trial of General Pavle Strugar: Presiding Judge Kevin Parker described defence attorney Vladimir Petrovic's cross-examination of a witness as "efficient and effective."
At the end of the day-long cross-examination of historian Dr. Colin Kaiser - a UNESCO expert who, in November and December 1991, was charged with making a list of damaged sites and assessing the damage caused during the three-month shelling of Dubrovnik - Petrovic compared two reports on the damage inflicted on the Old Town. The first report contained the findings of Dr. Kaiser in October and November 1991, while the second, compiled by the Institute for the Protection of Monuments from Dubrovnik, listed sites in the Old Town that had been damaged during all three months of the shelling – October, November and December 1991.
The Belgrade attorney confronted the witness with a series of examples of damaged sites that were cited in his report but not in the report of the Institute. He also asked him about buildings which, according to Kaiser's report, were damaged in October or November but which were listed by the Institute as buildings damaged on 6 December.
The defence is not denying the damage inflicted to buildings in the Old Town but is trying to limit the scope of destruction that resulted from the 6 December 1991 shelling, the only case of shelling and destruction with which their client is charged. General Pavle Strugar was initially accused of all the consequences of the siege and shelling of Dubrovnik from 1 October to the end of December 1991, but before his trial began, the indictment was amended and limited temporally to the attack of 6 December and spatially to the Old Town of Dubrovnik.
When confronted with these differences, the witness agreed with the defence attorney about the discrepancies between the two reports. Judge Parker of Australia, obviously interested in the numerous inconsistencies raised by the defence, called on the parties to reach an agreement during a break between two hearings on the damage indisputably inflicted on 6 December 1991; a comparative analysis of the two reports during cross-examination would take too much time.
The accused, General Strugar, also showed a great interest in the "efficient and effective" cross-examination of Dr. Kaiser. For the first time since the start of his trial, he could be seen following the course of the hearings very closely and responding to the "points" scored by his attorney.