Home
IZETBEGOVIC'S 'DOUBLE GAME'
Miomir Zuzul, Croatian former foreign minister, continued his evidence accusing the Muslim leadership of a 'double game' and obstruction of all peace negotiation as they went on by principle 'nothing is agreed until everything is agreed'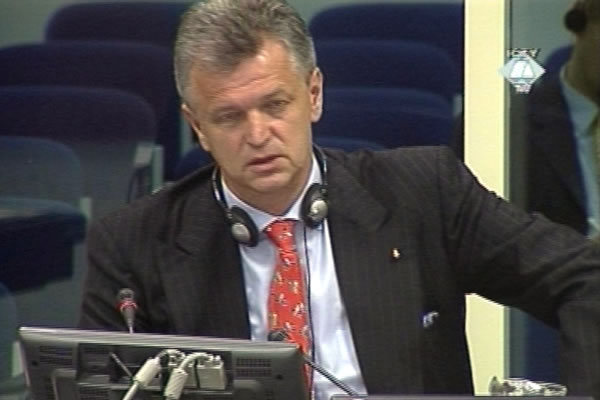 Miomir Zuzul, defence witness of Jadranko Prlic
Miomir Zuzul, former Croatian foreign minister, continued his evidence at the trial of the former Bosnian Croat leaders. He accused the Muslim side of obstructing the peace talks; their guiding principle was, 'nothing is agreed until everything is agreed'. In May 2008, Zuzul was examined by the defense counsel of the former Herceg Bosna prime minister as the first witness of his defense. Now Zuzul returned to The Hague to be cross-examined by the defense counsel of the other accused and the prosecution.
In his cross-examination by the defense counsel of the accused Milivoj Petkovic, the witness stated that Muslim negotiators always left some item that was not agreed on and then it resulted in the failure of the whole peace process. Alija Izetbegovic, who was the president of the BH presidency at the time, was a ringleader of this 'double policy'. According to Zuzul, Izetbegovic stalled the negotiations believing it would 'buy him some time'.
The Muslim leadership, Zuzul explained, stalled the peace talks so that they could launch offensives against Croat-held towns in secret. In his words, this is why during the negotiations Izetbegovic appeared to be a negotiator who 'found it difficult to decide and even more difficult to implement the decisions'. Contrary to that, Croatian president Tudjman always tried to implement immediately everything that was agreed.
Zuzul noted that he did not have a bad opinion of the Bosnian president whom he, as he said, 'respected'. He did add that Izetbegovic procrastinated because he believed that his negotiating position would improve with time. Zuzul recounted a conversation between the Bosnian president and his Croatian counterpart as an example. When Izetbegovic allegedly said that 'hundreds of thousands of people have died', Tudjman asked him 'how many more dead should there be for us to reach an agreement'. 'Even if a million were to die, the remaining million would live a life worth living', Izetbegovic replied.
Miomir Zuzul's evidence will continues with the cross-examination by the prosecutor.