Home
'EVIDENCE' FROM WITNESS'S BAG
Zoran Buntic, former chief of the Justice and Self-government Department of Herceg Bosna, claims the former JNA infiltrated counter-intelligence agents into the very top of the BH Army with the task of causing the conflict between Croats and Muslims. To corroborate his argument the witness offered a piece of evidence he had brought in a bag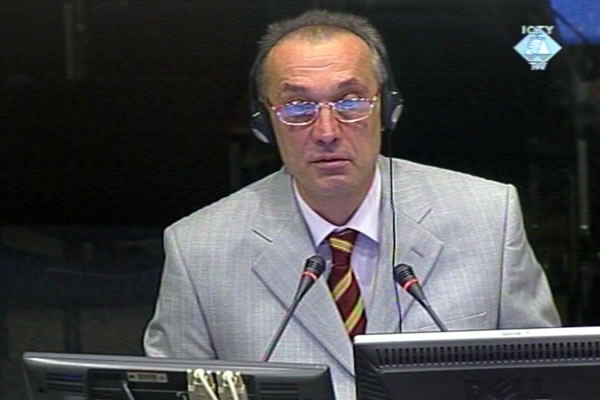 Zoran Buntic, defence witness of Jadranko Prlic
In 1992 the former JNA managed to infiltrate counter-intelligence agents into the BH Army top; their task was to cause the conflict between Croats and Muslims, Zoran Buntic said as he continued his evidence today. Since Sefer Halilovic, the then BH Army commander, was also one of the counter-intelligence agents, the Croatian side insisted on his removal, the former chief of the Herceg Bosna Justice and Self-Government Department went on to say.
To corroborate his claims, the witness offered a piece of evidence from a bag he had brought with him to the courtroom. The piece of evidence remained in the bag, because the judges declined his offer. As the witness clarified, this was in fact an article published in Slobodna Bosna, a Sarajevo magazine, listing the purported former counter-intelligence officers in the JNA.
The witness came to The Hague to give evidence in the defense of Jadranko Prlic, but he guaranteed all the accused were innocent as his testimony progressed, at least as far as the justice system in BH was concerned. None of them, the witness clarified, interfered with the operation of judiciary bodies in any way whatsoever. Those who did interfere, the witness added, have already stood trial.
Buntic went one step further, claiming that he personally supported all the decisions issued by civilian and military courts during his term of office. He was, he said, prepared to bear responsibility for all the errors those courts might have committed.
In the cross-examination of Buntic, Bruno Stojic's defense tried to 'correct' what Buntic had put in a report, to the effect that the Defense Department 'supervised the operation of military prisons in Herceg Bosna'. The witness at first maintained that what he had written there was absolutely true. However, he changed his mind in the course of the examination, finally admitting that the presidents of district military courts and prison wardens controlled the district and military prisons, not the Defense Department headed by the accused Stojic.