Home
MEMORABLE SOLIDARITY OR ETHNIC CLEANSING
As he continues his testimony as Jadranko Prlic's defense witness, Martin Raguz says the transfer of Croats from Central Bosnia to Herzegovina was a matter of life and death and not a case of 'reverse ethnic cleansing'. The prosecution sees this as an action aimed at creating Croatian majority in municipalities in Herzegovina where Muslims were expelled. The coordinated transfer of population, Raguz said, was an example of memorable solidarity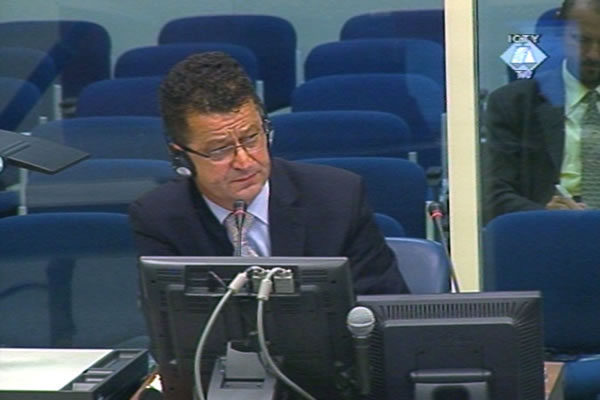 Martin Raguz, defense witness for Jadranko Prlic
The transfer of some 15,000 Croats from the Kakanj area to Herzegovina in the second half of 1993 conducted by the HVO was not an action of reverse ethnic cleansing as the prosecution alleges. It was a matter of life and death, Martin Raguz, member of BH parliament, said today as he continued his evidence in the defense of the former Herceg Bosna prime minister Jadranko Prlic.
The witness was first the deputy and then head of the Office for the Refugees and Displaced Persons in Herceg Bosna at the time of the most violent clashes between the HVO and the BH Army in 1993. According to him, the Croatian population from the Kakanj and Vares areas was forced to leave their homes by the 'constant attacks of the BH Army in that area'. The people called for help, but it was impossible to help them: this was the main reason why they were transferred to Herzegovina in a number of convoys, Raguz clarified.
The witness confirmed that the transfer of Croats from Kakanj was implemented in coordination with the Office for the refugees and displaced persons, with local communities in Herzegovina in charge of providing accommodation and the HVO personnel. It was, as the witness put it, a case of solidarity that will be always remembered. The witness denied the prosecution allegation linking this transfer with intention to settle as many Croats as possible in Herzegovina municipalities where Muslims were previously expelled thus securing the needed majority of Croatian population.
Raguz also denied the allegations in the indictment that the granting of visas to the third countries was a tool used to ethnically cleanse Muslims from Herzegovina. In his words, the very fact that 'only a very small number' of those visas was issued indicates that this could not have been a tool of ethnic cleansing. People simply went where life was better for them, he said. When the judges asked him how many visas were actually issued, the witness replied that the ballpark figure was 'only a few thousand visas'. In his belief, this is a small number compared to 'a million of people already dispersed all around the globe'.
After his examination-in chief, the witness was briefly cross-examined by the defense of the accused Milivoj Petkovic. As the lawyers of the other accused had no questions for the witness, the prosecutor began his-cross examination as the hearing drew to a close.