Home
BY THE BOOK
In his evidence in the defense of Jadranko Prlic, Zoran Buntic, a lawyer from Citluk, contends that all the bodies of the Croatian Community of Herceg Bosna –later to become the Croatian Republic of Herceg Bosna – operated within the legal framework of the Republic of Bosnia and Herzegovina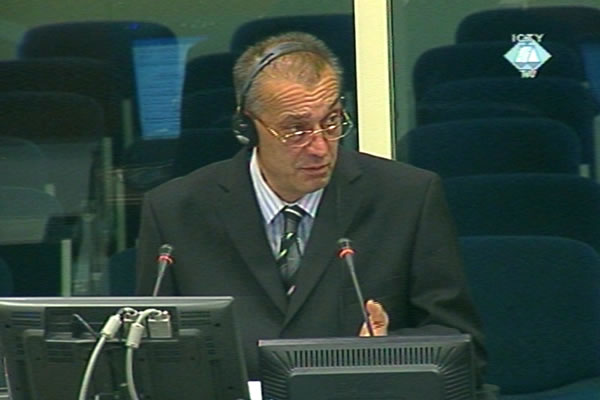 Zoran Buntic, defence witness of Jadranko Prlic
Zoran Buntic, a lawyer from Citluk, was head of the Office of Justice and Self-government in the self-proclaimed Croatian Community of Herceg Bosna (HZHB), later to become the Croatian Republic of Herceg Bosna. In his evidence in the defense of Jadranko Prlic, former prime minister of the Herceg Bosna government, the witness said that all HZ HB bodies acted within the legal framework of the then Republic of Bosnia and Herzegovina.
In the first part of his examination-in chief the witness said that from November 1991 – when the Croatian Community of Herceg Bosna was formed– to mid August 1992, Mate Boban had military and civilian power in Herceg Bosna in his hands. When he was appointed the HZ HB president in early June 1992 and became the supreme commander of the HVO, Boban handed over the civilian authority in Herceg Bosna to Jadranko Prlic. By mid-August Jadranko Prlic was appointed the president of the HVO.
According to the witness, Herceg Bosna 'became operational' after the conflict in BH broke out in the spring of 1992, when all the links between Mostar and Sarajevo were severed – from transport to financial transactions. In his words, the HZ HB was soon able to get the courts to function. However, it 'didn't establish any new courts' and 'didn't interfere with the existing legal system in BH'. When the judges asked him if he was aware of any decisions by the Herceg Bosna courts being quashed after the conflict ended for being 'passed outside of the BH legal system', the witness said he was not.
This is Buntic's second appearance before the Tribunal in The Hague. He has already testified as a defense witness in the case of Dario Kordic, former president of the HDZ BH and one of the highest ranking Herceg Bosna officials. In 2004, Kordic was sentenced to 25 years for crimes committed by the HVO members against Muslim population in Central Bosnia. His sentence was upheld on appeal.