Home
KOSOVO SIX DEFENSE RESTS
After ten months and 119 witnesses, the defense teams of the six former Serbian officials charged with crimes in Kosovo rest their cases. Before the trial ends, the Trial Chamber will hear the evidence of a few witnesses it has called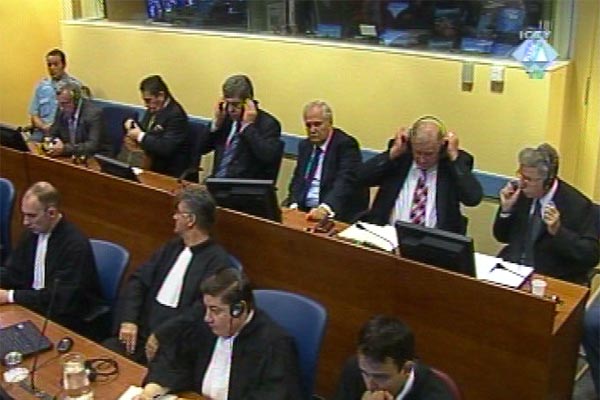 Milan Milutinovic, Nikola Sainovic, Dragoljub Ojdanic, Nebojsa Pavkovic, Vladimir Lazarevic and Sreten Lukic in the courtroom
The defense teams of the six former Serbian political, military and police officials charged with crimes against Kosovo Albanians in 1999, rested their cases after the evidence of Radomir Lukic, constitutional law expert, finished today. As in his cross-examination yesterday, Lukic avoided direct answers to the Trial Chamber's questions about the actual situation and relations in the government in Serbia and the FRY. He doggedly repeated that in the 1990's he had lived on Pale and not in Serbia and that in his expert report he dealt only with what is written in the constitution and in the laws and not with what was actually happening.
The trial of the Kosovo Six started on 10 July 2006 with the opening statement of the prosecution. The court heard a total of 231 witnesses, 112 witnesses gave evidence for the prosecution and 119 testified for the defense. The two-year long trial will be over after the court hears the evidence of a few witnesses called by the Trial Chamber to clarify issues that remained unclear after the prosecution and defense rested their cases.
The judges decided to first call General Milan Djakovic, who served in the Pristina Corps and the 3rd Army of the VJ as a colonel at the time relevant for the indictment. His evidence will start on Monday instead of today. The Trial Chamber also issued a subpoena to two members of the Rambouilles negotiations team: Russian diplomat Boris Mayorski and his US colleague Christopher Hill. It was not disclosed if they had agreed to testify. The third member of this team, Austrian ambassador Wolfgang Petritsch, gave evidence last year as a prosecution witness.
The indictment charged former Serbian president Milan Milutinovic, former federal deputy prime minister Nikola Sainovic, military generals Dragoljub Ojdanic, Nebojsa Pavkovic and Vladimir Lazarevic and former chief Kosovo police staff, General Sreten Lukic with persecution, deportation, forcible transfer and killing of Kosovo Albanians in 1999.
The closing arguments of the prosecution and the defense are scheduled to begin on 22 and end on 25 July 2008.