Home
PROSECUTION CALLS FOR HARSHEST PUNISHMENT FOR THE KOSOVO SIX
According to the prosecution, if the Trial Chamber finds the six accused Serbian political, military and police officials guilty of crimes against Kosovo Albanians in 1999, they should get twenty years or life in prison. Milan Milutinovic's defense begins its closing arguments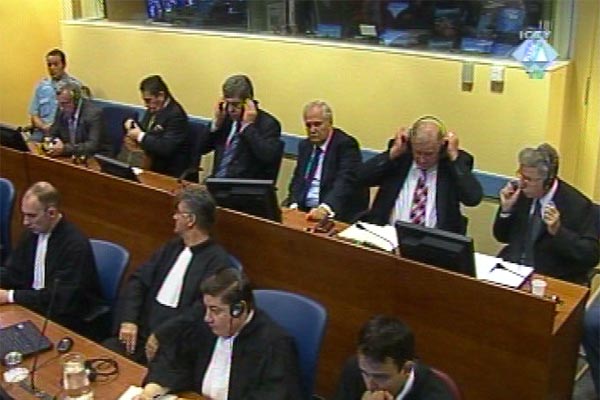 Milan Milutinovic, Nikola Sainovic, Dragoljub Ojdanic, Nebojsa Pavkovic, Vladimir Lazarevic and Sreten Lukic in the courtroom
In the conclusion of the closing argument at the trial for crimes against Kosovo Albanians in 1999, the prosecution urged the Trial Chamber to convict and sentence all six former Serbian political, military and police officials, Milan Milutinovic, Nikola Sainovic, Dragoljub Ojdanic, Nebojsa Pavkovic, Vladimir Lazarevic and Sreten Lukic to terms of imprisonment ranging from 20 years to life. The prosecution believes it has managed to prove their involvement in the joint criminal enterprise aimed at the expulsion of a substantial number of Albanians from Kosovo during the NATO campaign in 1999.
Yesterday, the prosecution dealt with the first three accused; today, it focused on the individual responsibility of Nebojsa Pavkovic and Vladimir Lazarevic, the VJ commanders in Kosovo and the police general Sreten Lukic. As the prosecutor put it, the two military generals participated in the joint criminal enterprise by implementing the orders issued by Dragoljub Ojdanic, the chief of the VJ General Staff. The prosecutor contends that they knew that crimes were being committed, but failed to do something to prevent them or punish perpetrators. As the prosecution alleges, there was a parallel line of command in the police at the time the crimes were committed. The police forces that committed numerous crimes against the Kosovo Albanians were under the command of the MUP headquarters in Belgrade, but they also received orders from the MUP Staff headquartered in Pristina; Sreten Lukic, the sixth accused in this case, was at its head.
Talking about the evidence called by the defense of the six accused, the prosecutor used the allegory of a drunken driver who might explain in many ways why he drove erratically, why he reeked of alcohol, why he had beer cans around him and slurred as he spoke. However, all this 'circumstantial evidence' irrefutably points to one fact only – that he was drunk. The situation with the responsibility of the six accused is similar, the prosecutor noted, and the evidence showing they took part in the joint criminal enterprise cannot be seen as coincidental. 'If it walks like a duck, quacks like a duck and blinks like a duck, then it is a duck', the prosecutor concluded.
Milan Milutinovic's defense started its closing arguments in the second half of the hearing today.